---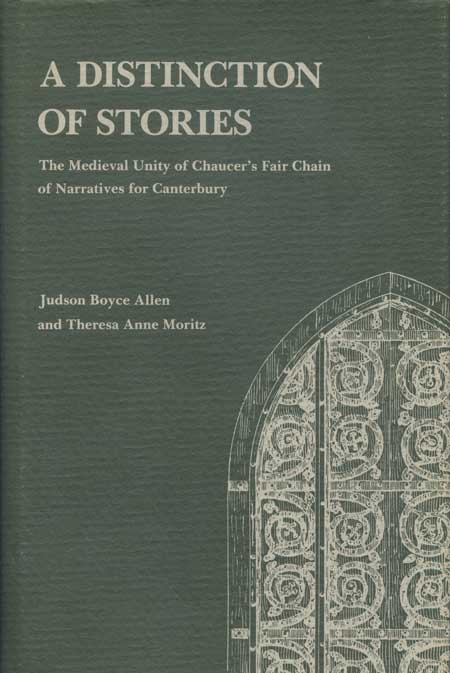 A Distinction of Stories
The Medieval Unity of Chaucer's Fair Chain of Narratives for Canterbury
Judson Boyce Allen and Theresa Anne Moritz
This compelling reading of the Canterbury Tales is new in three important respects: It goes beyond the critical truism that Chaucer was fond of Ovid to discover, in medieval analyses of the form of the Metamorphoses as a collection, basic guidance for understanding the form of Chaucer's own aggregation of tales. It proposes, in light of this evidence, a new order or sequence for the tales that is based neither on the mute witness of some single "good" manuscript or group of manuscripts, nor on the geography between London and Canterbury. And, instructed by the inconclusive results of merely internal evidence, it establishes an ordering grounded primarily in external evidence—in medieval literary commentaries and manuals and in the Metamorphoses itself, which defined medieval principles of literary organization.
By reading the Canterbury Tales as a normative array of exempla in four groups, which exploit the literal and analogical significance of the structure of marriage in order to arrive at a definition of social order, Allen and Moritz are able to posit a medieval unity for Chaucer's own creation and an obvious adumbration of his intention for the whole. The succeeding three are the heuristic constructs of Allen and Moritz, who, while respecting the integrity of each of Chaucer's fragments, reorder them according to the example provided by his own medieval editors. The classification of Chaucer's tales into the four Ovidian categories—natural, magical, moral, and spiritual—obeys both the method and the specific content of medieval literary criticism.
In undertaking a reading of the tales based on medieval notions of story (which were ethical) and literary arrangements (which were logical, discursive, and rhetorical), Allen and Moritz determine for every tale its logical place in a single coherent argument, and thus move considerably beyond those studies of the wholeness of Chaucer's collection that make much of beginning and of ending, and settle for a miscellany in between. As the present authors present it, the argument of the tales demonstrates conclusively that Chaucer possessed a remarkably shrewd understanding, not only of human nature, but also of that structured social cosmos in which medieval man saw literary decorum and moral truth as the same thing.
Judson Boyce Allen is professor of English at Marquette University and the author of The Friar as Critic: Literary Attitudes in the Later Middle Ages. Theresa Anne Moritz is working on her doctorate at the Center for Medieval Studies of the University of Toronto.

---