Helen Hooven Santmyer Prize in Women's Studies
---
This Strange Society of Women
Reading the Letters and Lives of the Woman's Commonwealth
Sally L. Kitch
"Kitch is at her best in her vivid evocations of the individual correspondents . . . . The documents create a sense of the community as a group— an energetic and adventurous sisterhood, loyal to their leader, to each other and to their shared spiritual values." —The Women's Review of Books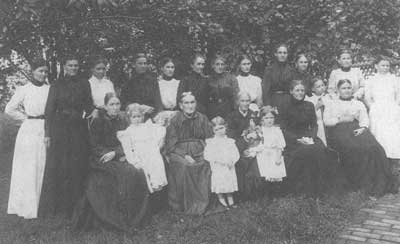 Sally Kitch's study tells the story of an unusual, all-female urban utopian community founded in the late nineteenth century in Belton, Texas. The Woman's Commonwealth combined an ideology of celibacy with traditional business practices to achieve women's economic independence.
Based on a large collection of personal letters exchanged among the group's twenty to twenty-five members, primarily mothers and their daughters, the book functions on several levels. First, it chronicles the history and beliefs of the community, its business enterprises—successful hotels and boardinghouses—and the personalities and relationships of its members. Second, Kitch considers the role of the letters themselves in the formation, maintenance, and ultimate dissolution of the group. Whereas most studies of women's letters have focused primarily on their role as historical documents, this book explores the symbolic or literary characteristics of the correspondence and applies narrative theory to its interpretation. Finally, Kitch assesses the community from various feminist theoretical perspectives and considers the Commonwealth's significant to modern feminism.
For readers interested in feminism, American history and religion, utopian studies, cross-generational relationship, and for those who study letters or diaries as keys to understanding history and society, This Strange Society of Women offers a new way of examining early feminist communities and their importance to the history of American women.
Sally L. Kitch, formerly director and associate professor at the Center for Women's Studies at Wichita State University, has been appointed director and professor at the Center for Women's Studies at The Ohio State University. She is the author of several books, including Chaste Liberation: Celibacy and Female Cultural Status, as well as numerous articles on feminist theory and women's issues.

| | |
| --- | --- |
| 1992 391 pp. illus. | |
| | |
| | |
---