---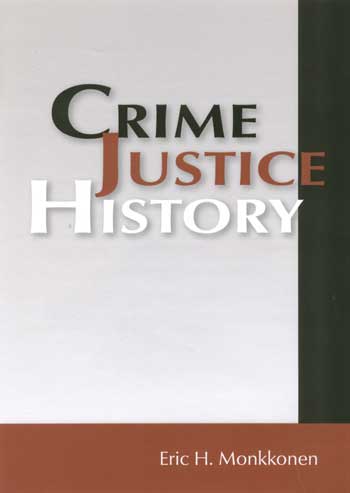 Crime, Justice, History
Eric H. Monkkonen
American crime and the institutions for its control are deeply embedded in and shaped by history. The historical origins have often become invisible, and their recovery difficult, but any understanding of the contemporary situation requires historical context. For over twenty-five years Eric Monkkonen has worked on some of the puzzles and problems in recovering the history of crime and police.
Much of his work has appeared in articles, often in specialized journals or not in English, which this book collects for the first time. In addition to Monkkonen's major published articles, this volume includes several new ones. The topics embrace violence, public disorder, policing, popular culture, and contrasts between the U.S. and Europe. Some articles illuminate special methodological and source issues that challenge historians of criminal justice. As well as dealing with serious crime, the book includes several articles on specifically urban problems and solutions associated with disorder, crime, and poverty.
In contrast to the more technical articles, several chapters, which originally appeared as op-ed pieces, show how historical understanding can help address current policy issues in crime and crime control. All too often, current policy debates occur without proper historical background. As a result, old ideas that have been tried and rejected are re-introduced, or new and sometimes simple ideas are ignored.
Eric H. Monkkonen is professor of history at the University of California–Los Angeles.

---