Black Performance and Cultural Criticism
Edited by Valerie Lee and E. Patrick Johnson
---
Forthcoming Black Performance and Cultural Criticism Titles: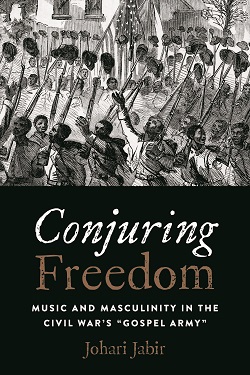 Conjuring Freedom: Music and Masculinity in the Civil War's "Gospel Army"
Johari Jabir
Expected pub date: March, 2017
198 pp. 6 x 9
$71.95 Hardcover

The Black Performance and Cultural Criticism series includes monographs that draw on interdisciplinary methods to analyze, critique, and theorize black cultural production.Books in the series take as their object of intellectual inquiry the performances produced on the stage and on the page, stretching the boundaries of both black performance and literary criticism. Inquiries should be directed to Lindsay Martin at The Ohio State University Press.
---
Published Titles in Black Peformance and Cultural Criticism
| | | |
| --- | --- | --- |
| 2016 | David | Mama's Gun: Black Maternal Figures and the Politics of Transgression |
| 2015 | Alexander Craft | When the Devil Knocks: The Congo Tradition and the Politics of Blackness in Twentieth-Century Panama |
| 2015 | Jones | Theatrical Jazz: Performance, Àṣẹ, and the Power of the Present Moment |
| 2013 | Richardson | The Queer Limit of Black Memory: Black Lesbian Literature and Irresolution |
| 2011 | Buckner and Caster, eds. | Fathers, Preachers, Rebels, Men: Black Masculinity in U.S. History and Literature, 1820–1945 |
| 2010 | Hagood | Secrecy, Magic, and the One-Act Plays of Harlem Renaissance Women Writers |
| 2009 | Seniors | Beyond Lift Every Voice and Sing: The Culture of Uplift, Identity, and Politics in Black Musical Theater |
| 2008 | Caster | Prisons, Race, and Masculinity in Twentieth-Century U.S. Literature and Film |
| 2007 | Stallings | Mutha' Is Half a Word: Intersections of Folklore, Vernacular, Myth, and Queerness in Black Female Culture |