---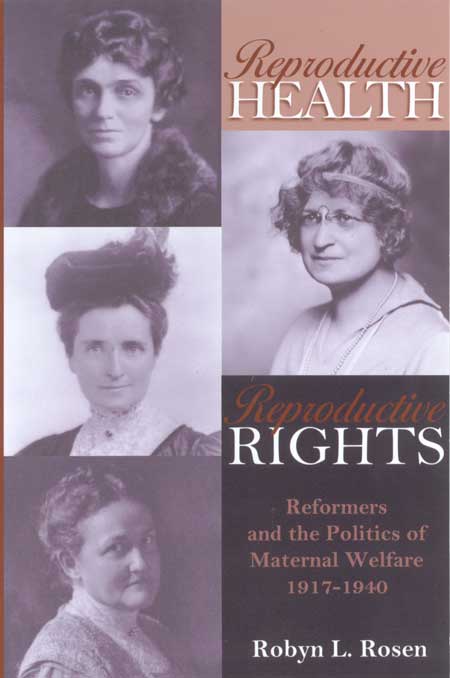 Reproductive Health, Reproductive Rights
Reformers and the Politics of Maternal Welfare, 1917–1940
Robyn L. Rosen
"an important contribution to our understanding of the ever-growing list of women whose work needs recognition if we are to comprehend the political culture of the United States in the early twentieth century." —The Michigan Historical Review
"Robyn L. Rosen argues that a detailed examination of the political biographies of four prominent, but historically neglected, progressive reformers sheds new light on the complex nature of maternal welfare movements in the first decades of the twentieth century. Each of these reformers injected into Progressive reform new analyses of the root causes of social problems, the best solutions to these problems, and the most effective strategies for attaining resolution. Incorporating these stories into the historiography of the era enables us better to understand why some reforms succeeded and others failed. I found this a very compelling book, one that will make a significant contribution to maternal welfare studies." —Lynne Curry, author of Modern Mothers in the Heartland: Gender, Health, and Progress in Illinois, 1900–1930
In the early twentieth century, shifting attitudes and new public health standards brought an unprecedented interest in and effort to regulate issues affecting reproduction and maternity. Items related to maternal and infant health, such as nutrition and medical care, came under scrutiny, as did the issue of birth control. While the prior gained public support, the latter remained controversial. Though some reformers saw birth control as an important part of maternal welfare, others sought to separate it from more popular reforms. The careers of the four prominent but usually neglected reformers (Elizabeth Lowell Putnam, Ethel Sturges Dummer, Mary Ware Dennett, and Blanche Ames) examined in this book embody the struggle to define and resolve these tensions.
The study of these reformers offers a new perspective on more recognized leaders in the arena of reproductive health and rights, especially the U.S. Children's Bureau and Margaret Sanger. Putnam's elitism contextualizes the class politics of the Bureau, underscoring its sensitivity to the vulnerable and its innovative approach to public health. Dummer reminds us of roads not taken by policy makers in the U.S. Children's Bureau, accentuating the differences between a child-centered and a woman-centered agenda. Similarly, the Sanger-led birth control movement takes on a new cast when examined from this vantage point. Dennett highlights the obstacles to women reformers in the formal political sphere, while Ames's penchant toward maternalism and compromise also led to difficulties. Together, they illustrate the complexities of formulating an effective approach to securing reproductive rights and health.
Robyn L. Rosen is associate professor of history at Marist College.

---