---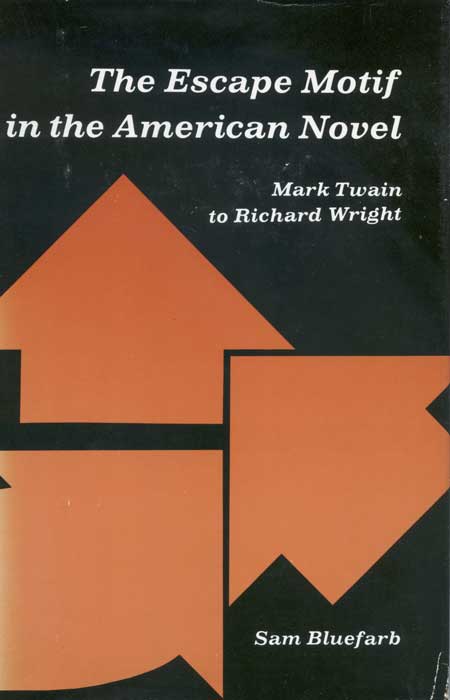 The Escape Motif in the American Novel
Mark Twain to Richard Wright
Sam Bluefarb
The presence of escape or flight in the modern American novel reflects a dominant and enduring mood in American life. It appears with astonishing frequency as a kind of obsessive accompaniment or counterpoint to the main structure of the plot, or even as a narrative component of the story itself. And though the theme can be traced back beyond the beginnings of the American nation and into the European past and the flight from the Old World to the New, it is nowhere else so pervasive as in the literature of the United States.
Two developments in the history of America have given a particularly national stamp to the escape that is the special preoccupation of American novelists: the opening of the western frontier and its eventual closing. And it is in the long and frequently troubled interval between these two epochal events that the author finds occurring a slow but inexorable evolution in the modes and varieties of the escapes that are sought. Huck Finn's flight from civilization to the Territory in the mid-nineteenth century is colored by the optimistic glow that permeated and characterized the westward migration in America. Bigger Thomas's desperate flight a century later is without hope, and he is only drawn more deeply into the labyrinth that is the black ghetto of urban America.
Sam Bluefarb examines this evolution in eight novels: Dos Passos's Three Soldiers, Harold Frederic's The Damnation of Theron Ware, Sherwood Anderson's Winesburg, Ohio, Ernest Hemingway's A Farewell to Arms, Steinbeck's The Grapes of Wrath, Carson McCullers's The Heart Is a Lonely Hunter, and Richard Wright's Native Son. He finds that they chronicle a rich variety of forms of escape reflecting the individual circumstances and particular times from which and in which protagonists take flight. But he has discovered, too, that common elements conjoin fictional escapes—whether made or just attempted—and attest to a persistent quest for freedom that informs out literature.
For the escapes recounted are more than just escapes: whether they are undertaken with hope or in despair, or are successful or unsuccessful, they symbolize a form of rebirth—that rebirth into freedom that is the exercise of an inalienable right. For the desire and the will to escape that are prompted by that painful awareness of the discrepancy between life as it is and life as it should be do indeed represent, for Americans, one of the fundamental rights guaranteed them—even though that guarantee is a provisional one and the outcome of the flight for freedom is often and at best in doubt.
Sam Bluefarb is associate professor of English at the Los Angeles Harbor College in Wilmington, California.

---