---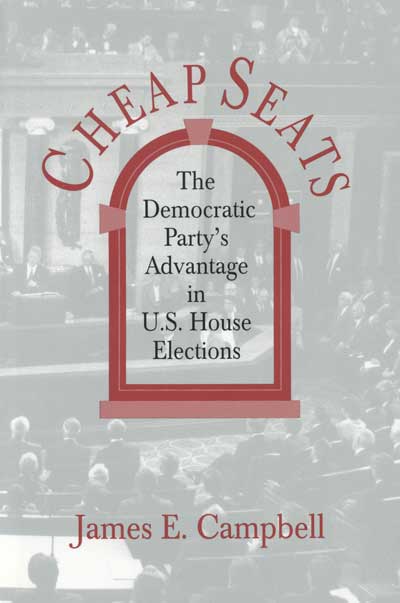 Cheap Seats
The Democratic Party's Advantage in U.S. House Elections
James E. Campbell
The longest continuous majority in the history of the U.S. House of Representatives came to a dramatic close with the 1994 midterm elections. The Democratic Party had controlled the House for forty years—two and a half times as long as any previous majority. In Cheap Seats, James E. Campbell considers the reasons why the Democrats dominated House elections for four decades and why they ultimately lost that control.
Examining the structural advantages that helped congressional Democrats, Campbell finds that their unprecedented success in the House was due in no small measure to a favorable election system, an advantage in the way in which votes are translated into House seats. His straightforward analysis indicates that Democrats consistently win most of the very-low-turnout districts, or "cheap seats." In fact, because of the party s continued hold on such districts, the new Democratic minority is considerably larger than it would otherwise have been.
Cheap Seats is a thorough and innovative investigation into the electoral system s impact on partisan politics and representation in Congress. Campbell presents an impressive array of evidence, including both quantitative analysis of election returns from 1936 to 1994 and in-depth studies of several cheap-seat districts. He also explores the important theoretical issues of representation that cheap seats raise and offers several proposals to reform the system. This well-written and provocative volume is accessible to anyone interested in American politics, in addition to scholars especially interested in the areas of Congress, elections, electoral systems, and political parties.
James E. Campbell is professor of political science at Louisiana State University. He is the author of The Presidential Pulse of Congressional Elections.

---