---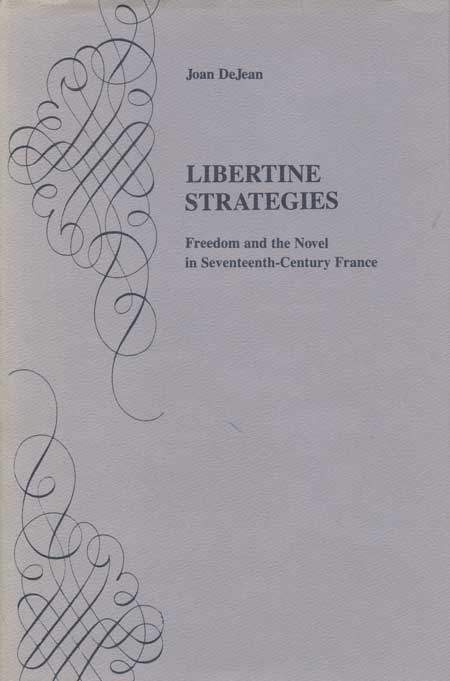 Libertine Strategies
Freedom and the Novel in Seventeenth-Century France
Joan DeJean
This book is an important contribution to the vigorous and growing revival of interest in the seventeenth-century French novel as the progenitor of what has become the dominant literary genre in our own time. In a brilliant discussion of a group of compelling works of prose fiction by freethinking authors, whose flamboyant life styles, radical ideas, and audacious attacks on the established order made their literary productions suspect, Joan DeJean demonstrates that the issues at the heart of the libertine enterprise—autobiography, madness, fragmentation, and dialogue—are precisely those that define the problematic modernity of these works. In detailed analyses of Théophile de Viau's Fragments d'une histoire comique, Charles Sorel's Francion, Tristan L'Hermite's Le page disgracié, Cyrano de Bergerac's L'Autre Monde and Estats et empires du soleil, D'Assoucy's Aventures, and Chapelle's Voyage à Encausse, Professor DeJean explores the complex nonfictional literary genres with which they have traditionally been associated.
Occupying an unstable middle ground between autobiography and the novel, the works of the libertines are, with one exception, all written in the first person, a marked departure from the dominant literary tradition of the roman heroïque. They reflect both structurally and thematically the problems of an existence that is at once lived and invented. Investigating these problems, DeJean provides an original interpretation of the libertines' obsession with naming, analyzes their penchant for fictionalizing history, and studies their peculiar ambivalence about persecution. She also examines the various techniques of indirection used by the libertines simultaneously to transmit and to camouflage their message of intellectual and narrative freedom. Open-ended, the libertine novel is deliberately inconclusive, fragmentary, and self-questioning. Our modernity has taught us to see such qualities as vitally literary. Professor DeJean shows us that this vitality was already struggling to assert itself in the seventeenth-century French novel.
Joan DeJean is an associate professor of French at Princeton University and the author of Scarron's "Roman comique": A Novel of Comedy, a Comedy of the Novel.

---