---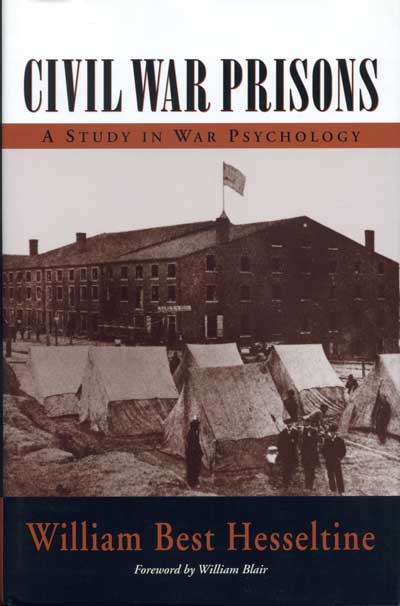 Civil War Prisons
A Study in War Psychology
William Best Hesseltine
Foreword by William A. Blairis
"Prisons and prisoners of war rank among the most controversial but least studied aspects of the American Civil War. After nearly seventy years, Civil War Prisons remains the most useful introduction to a topic that has generated more emotional debate than sound scholarship. A classic of Civil War literature." —Gary W. Gallagher
Upon its publication in 1930, Civil War Prisons immediately provoked controversy. The first authoritative study of both southern and northern wartime prison systems, the book exposed several myths, including the widely held assumption that Confederate leaders had conspired to kill their prisoners through deliberate neglect. William Best Hesseltine demonstrated that the North shared responsibility with the South for the poor treatment of prisoners, and that it had little to brag about in its own camps. Furthermore, Hesseltine argued that some in the North had conducted a propaganda campaign aimed at impugning the "southern character," thus creating what he called a wartime "psychosis" that made it easier for the Union to believe the worst of the Confederacy.
Hesseltine vividly portrays the rise and fall of the prisoner exchange system that led eventually to the establishment of such camps as Andersonville. Once established through a cartel in July 1862, the exchange system functioned reasonably well until it collapsed in late 1863. Until this point in the war, the treatment of prisoners featured few of the horrors that proliferated after the cartel was dissolved.
Civil War Prisons remains the only examination of the entire prison system in both the North and the South. It stands as the essential resource for anyone interested in learning about the experiences of both Confederate and Union prisoners of war.
William Best Hesseltine (1902–63) was a faculty member of the history department of the University of Wisconsin–Madison. He was the author of fourteen books and the editor of six. William A. Blairis an assistant professor of history at the University of North Carolina at Greensboro and the editor of A Politician Goes to War: The Civil War Letters of John White Geary.

1998
290 pp. 6 x 9

This title is out of print


cloth 978-0-8142-0768-0
---