---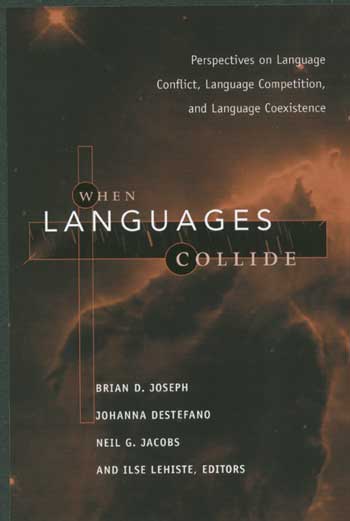 When Languages Collide
Perspectives on Language Conflict, Language Competition, and Language Coexistence
Brian D. Joseph, Johanna Destefano, Neil G. Jacobs, and Ilse Lehiste, editors
"The wide range of languages treated in When Languages Collide will give it special appeal, as will the variety of problems considered. The authors have considerable field experience and hence personal knowledge of the settings and problems." —Nancy Dorian, Bryn Mawr College
"By its breadth, interdisciplinary flavor, and focus on applications of linguistics in the real world, this book should build a unique audience well beyond linguistics into a whole set of related fields, especially in social sciences and cultural studies." —Joseph Salmons, University of Wisconsin
Language contact is a pervasive phenomenon in human history. Groups of speakers of different languages regularly come into contact through trade, war, migrations and the like. As with inter-group contact in general, language contact can lead to conflict or to coexistence. This volume brings together fifteen essays on issues pertaining to the causes and results of the conflicts and more peaceful outcomes when speakers of different languages come to occupy the same territory.
The contributors in this book, while diverse in their foci, nevertheless share a common orientation: their fundamental approach is one grounded in the lives of the speakers, individually and societally. Collectively, the contributions deal with examples of a broad range of geographic areas across the globe, and from an even broader range of languages in contact and conflict.
Brian D. Joseph is professor of Linguistics and Kenneth E. Naylor Professor of South Slavic Linguistics at The Ohio State University. Johanna S. Destefano is professor emerita of Language, Literacy and Culture Education, the School of Teaching and Learning at The Ohio State University. Neil G. Jacobs is associate professor of Yiddish and Ashkenazic Studies Program, Department of the Germanic Languages and Literatures at The Ohio State University. Ilse Lehiste is professor emerita of Linguistics at The Ohio State University.

---