---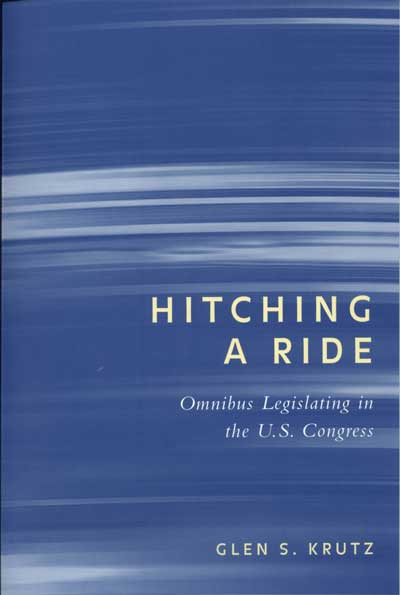 Hitching a Ride
Omnibus Legislating in the U.S. Congress
Glen S. Krutz
"Hitching a Ride is an original and provocative book that will be of interest to the entire community of legislative scholars. The strengths of the book are the topic, the theoretical perspective, the broad range of types of evidence, the historical coverage, and the substantive importance of the question. All future work on legislative productivity will have to refer to this book." —Frank R. Baumgartner, Pennsylvania State University
"Hitching a Ride describes the purpose, prevalence, and impact of omnibus legislation at the federal level. It is the first treatment of this important facet of the policymaking process and should attract considerable attention among scholars of American politics. It will be a must read for students of executive-legislative relations and the congressional policy process." —E. Scott Adler, University of Colorado
Omnibus legislating is the controversial practice of combining disparate measures in one massive bill. Omnibus packages are "must-pass" bills because they have a nucleus that enjoys widespread support but they also contain a variety of often unrelated measures that are simply "hitching a ride." Why are omnibus bills employed? Why the increase in their use? Why do leaders attach certain bills to omnibus packages and not others? Glen Krutz addresses these and other questions in this original and insightful study of an important change in the legislative process.
Many view omnibus packages as political vehicles and therefore attribute their rise to politics, but Krutz finds that, whatever their political value, omnibus packages are institutionally efficient. Omnibus legislating improves congressional capability by providing a tool for circumventing the gridlock of committee turf wars and presidential veto threats.
In addition to furnishing a fascinating look at lawmaking, Hitching a Ride: Omnibus Legislating in the U.S. Congress provides a challenge to recent studies of congressional change that focus on political factors. Political and institutional factors together, Krutz argues, explain congressional evolution.
Glen S. Krutz (website) is an assistant professor of political science at the University of Oklahoma. He has received both the 2000 E. E. Schattschneider Award from the American Political Science Association and the 2000 Carl Albert Dissertation Award from the Legislative Studies section of the American Political Science Association.

---