---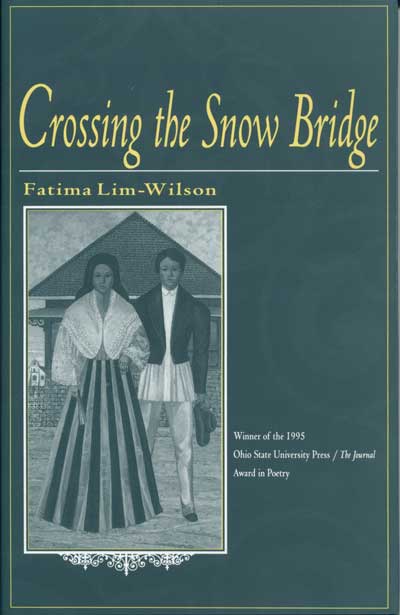 Crossing the Snow Bridge
Fatima Lim-Wilson
"In her urgent, watchful (and often sumptuous) evocation of stolen islands and multiple fires—apocalyptic, sexual, and domestic—Fatima Lim-Wilson deftly celebrates the persistence of memory." —Rikki Ducornet
"A collection of poems that arises from truly intense and fascinating encounters with the forces of imperialism and cultural dislocation—not to mention weddings, grandparents, and ghosts." —Chicago Review
The manananggal, a supernatural character in Filipino folklore, flies at night seeking prey, her winged upper torso casting shadows from the moonlit sky while the lower part of her body waits patiently below. In this fascinating new collection, Fatima Lim-Wilson explores the similarly split experience of the immigrant in the United States.
An inhabitant of this country for five years, Lim-Wilson's legal status is that of "resident alien," a disturbing but apt description given the clash of cultures the immigrant encounters daily. Although she still dreams in her native Tagalog, Lim-Wilson writes in her borrowed language, and it is through attempting to understand the cleaving of her own tongue that she works to redefine her place and that of other immigrants here.
How can memories of green mangoes, miniature fish, and the landscape of seven thousand islands fit in with, let alone contribute to, a North American cultural identity? Yet a great part of that cultural identity is built upon the immigrant experience. In telling stories of the Philippines and of the United States, these poems build a metaphorical bridge over which we can cross between cultures.
Fatima Lim-Wilson's first collection, Wandering Roots / From the Hothouse, won the 1992 Philippine National Book Award for poetry. She currently teaches English at Shoreline Community College in Seattle.

---