---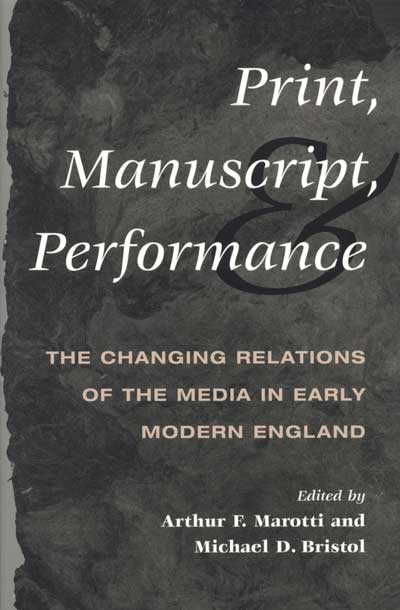 Print, Manuscript, and Performance
The Changing Relations of the Media in Early Modern England
Edited by Arthur F. Marotti and Michael D. Bristol
The eleven essays in this volume explore the complex interactions in early modern England between a technologically advanced culture of the printed book and a still powerful traditional culture of the spoken word, spectacle, and manuscript. Scholars who work on manuscript culture, the history of printing, cultural history, historical bibliography, and the institutions of early modern drama and theater have been brought together to address such topics as the social character of texts, historical changes in notions of literary authority and intellectual property, the mutual influence and tensions between the different forms of "publication," and the epistemological and social implications of various communications technologies.
Although canonical literary writers such as Shakespeare, Jonson, and Rochester are discussed, the field of writing examined is a broad one, embracing political speeches, coterie manuscript poetry, popular pamphlets, parochially targeted martyrdom accounts, and news reports. Setting writers, audiences, and texts in their specific historical context, the contributors focus on a period in early modern England, from the late sixteenth through the late seventeenth century, when the shift from orality and manuscript communication to print was part of large-scale cultural change. Arthur F. Marotti's and Michael D. Bristol's introduction analyzes some of the sociocultural issues implicit in the collection and relates the essays to contemporary work in textual studies, bibliography, and publication history.
Contributors include
Leah S. Marcus
Douglas Bruster
Alexandra Halasz
Joseph Loewenstein
Randall Anderson
Arthur F. Marotti
Harold Love
Margaret J. M. Ezell
Steven Mullaney
F. J. Levy
Michael D. Bristol
Arthur F. Marotti is a professor of English at Wayne State University and the author of Manuscript, Print, and the English Renaissance Lyric. Michael D. Bristol is a professor of English at McGill University. His books include Big-Time Shakespeare.

---