---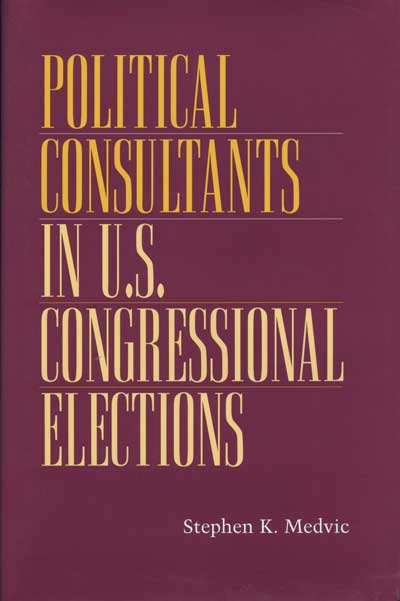 Political Consultants in U.S. Congressional Elections
Stephen K. Medvic
Campaign consultants are arguably now as famous in the United States as the politicians themselves. During the past decade, those who know the names Bill Clinton, George Bush, Newt Gingrich, and Christine Todd Whitman also recognize the names James Carville, Mary Matalin, Frank Luntz, and Ed Rollins. Professional consultants, once part of the privileged inner circle of presidential and gubernatorial candidates, are increasingly found at all levels of politics. Indeed, more than half of congressional candidates hire campaign consultants. These professionals have become as important to a candidate's success as money. In this innovative study, Stephen K. Medvic explores all aspects of political consultancy and develops an empirically based theory that measures the impact consultants have on elections.
Political Consultants in U.S. Congressional Elections answers two simple questions: What do professional political consultants do? and How successful are they? Medvic analyzes the way consultants shape political dialogue and uses empirical data to show the benefits—and limits—of a consultant's involvement in a campaign. He focuses on issues as diverse as vote shares, outcomes, and fundraising. Finally, the author demonstrates how the adversarial nature of campaigns fosters the kind of electioneering advocated by most political consultants and argues that this process may not be as harmful for the country as is often suggested.
Stephen K. Medvic is an assistant professor of political science at Old Dominion University.

---