---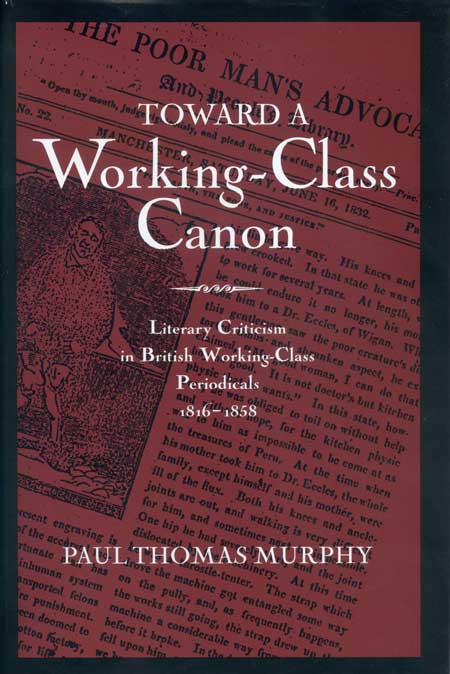 Toward a Working-Class Canon
Literary Criticism in British Working-Class Periodicals, 1816–1858
Paul Thomas Murphy
In the first comprehensive book covering working-class views of literature during the first half o the nineteenth century, Paul Thomas Murphy argues that the documented rise in working-class political consciousness was accompanied by an important and largely undocumented rise in working-class literary consciousness. Furthermore, Murphy contends that the journalists of working-class periodicals struggled to fashion literary standards for their class to form a working-class canon.
In this original and stimulating study, Murphy pays close attention to what writers and editors of these periodicals had to say about specific literary genres, the literary and stylistic values they adopted, and the figures they saw as their models as well as those they rejected. Murphy provides a sense of working-class literacy and a brief history of the working-class press from 1816 to 1858. He then focuses on the views of fiction, poetry, and drama that appeared in the journals.
Noting that working-class writers and editors actively sought to define for themselves the spiritual and political role literature played for an emerging working class, Murphy concludes that while there was no uniform working-class interpretation of literature, working-class journalists conducted a lively and continuing debate about literature, and that their agreements and disagreements show a thriving and evolving aesthetic. Toward a Working-Class Canon offers both serious appraisals of now-forgotten writers and fresh and important views of the most well-known writers. It is a major contribution to Victorian studies, canon studies, British labor history, and the history of journalism.
Paul Thomas Murphy teaches in the University Writing Program, University of Colorado, Boulder, and has been published in Victorian Studies.

---