---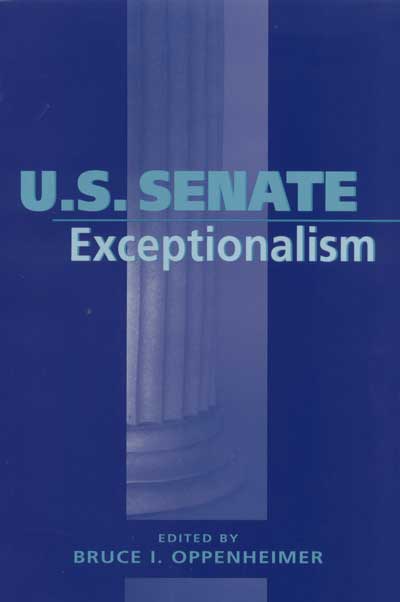 U. S. Senate Exceptionalism
Edited by Bruce I. Oppenheimer
This collection includes the most recent scholarship on the U.S. Senate. Whereas most books simply assume that research about the House of Representatives holds equally well when applied to the Senate, this volume takes as its point of departure research about the Senate itself. This gives the reader a clear understanding of the particular nature of the institution and opens the door for further, refining research. Drawing on diverse methodologies, this book's synthesizing work will be essential reading for all scholars of American politics. The chapters are written by leading congressional scholars and cover topics including representation, elections, committees, party leadership, policy influence, and constitutional powers.
Contributors:
Alan I. Abramowitz
John R. Alford
David T. Canon
Joseph Cooper
Lawrence C. Dodd
Robert S. Erikson
C. Lawrence Evans
Richard Fenno Jr.
Gerald Gamm
John R. Hibbing
Kim Fridkin Kahn
Patrick J. Kenney
Frances D. Lee
Burdett Loomis
Bruce I. Oppenheimer
David W. Rohde
Elizabeth Rybicki
Wendy J. Schiller
Patrick J. Sellers
Barbara Sinclair
Steven Smith
Charles Stewart III
Bruce I. Oppenheimer is professor of political science at Vanderbilt University in Nashville.

---