---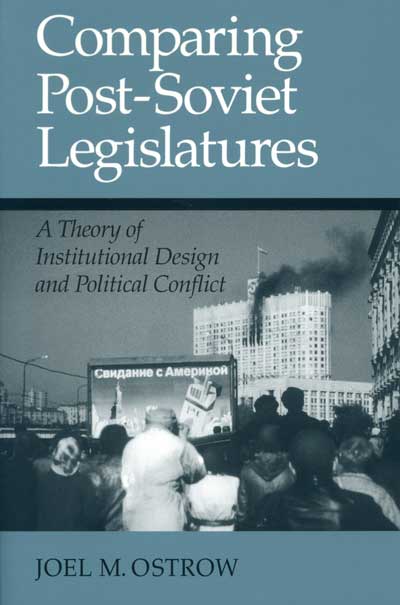 Comparing Post-Soviet Legislatures
A Theory of Institutional Design and Political Conflict
Joel M. Ostrow
One dilemma facing new or newly independent states, such as those of the former Soviet Union, is how to design effective legislatures when political parties are weak and fragmented or even nonexistent. In this book, Joel M. Ostrow develops a comparative institutional framework to explain marked differences in behavior across three post-Soviet legislatures: the Russian Supreme Soviet, the Russian State Duma, and the Estonian legislature. He argues that these differences in ability to manage political conflict can be explained in large measure by the design of the legislatures. Most significant is the choice of whether and how to include parties or partisan factors.
Legislatures are an omnipresent component of modern democracy. Ostrow's comparative institutional design confirms the presumption of many political scientists that parties are essential for legislative consensus building. However, it also reveals that parties may have paradoxical effects on a legislature's performance. In following the budget process in Russia and Estonia, Ostrow explores the consequences that different institutional designs have had on post-Soviet legislatures. He has found that how parties are included may determine how capable a legislature is at managing political conflict, both internally and with the executive branch of the government. The author was present at many of the committee hearings and legislative sessions he describes, and his firsthand observations and interviews with committee members enhance his analysis.
Joel M. Ostrow is an assistant professor of political science at Benedictine University. He is the author of several articles in such journals as Europe-Asia Studies and Communist and Post-Communist Studies.

---