---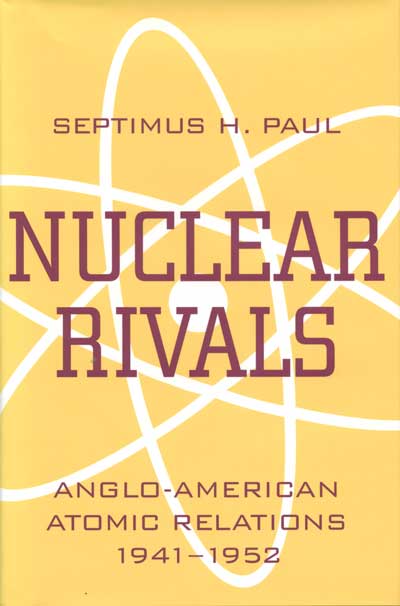 Nuclear Rivals
Anglo-American Atomic Relations, 1941–1952
Septimus H. Paul
Relying on recently declassified government records relating to postwar atomic research, Septimus H. Paul analyzes how the governments of the United States and Great Britain between 1939 and 1945 collaborated on developing the atomic bomb. Capitalizing on the availability of physicists and chemists who had fled Hitler's Germany, U.S. and British scientists were able to repeat within a few weeks the test of nuclear fission first performed by two German chemists and strive toward cooperative development of the bomb during Word War II. But the death of Roosevelt and Truman's succession in 1945, coupled with Churchill's loss of the prime ministership to Clement Attlee, marked a definite change in Anglo-American atomic policy.
After detonating the bomb, the U.S. became less willing to abide by the terms of wartime agreements pledging to continue postwar collaboration. Paul examines the postwar controversy surrounding noncollaboration and its effects upon the British-American special relationship. He also shows how American unwillingness to collaborate forced the British to pursue an independent atomic program. On October 3, 1952, the British finally detonated their own atomic bomb.
Septimus H. Paul is a professor of history at College of Lake County in Grayslake, Illinois.

---