---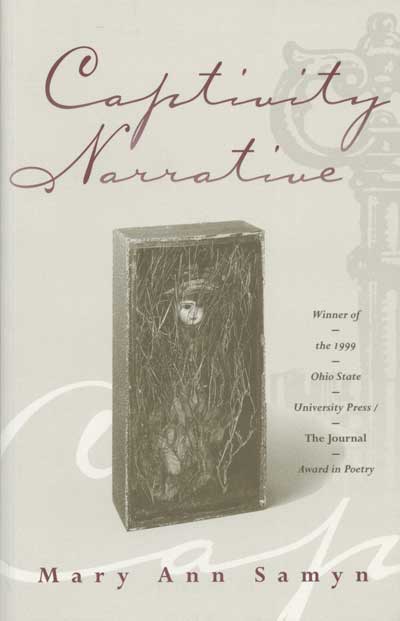 Captivity Narrative
Mary Ann Samyn
Mary Ann Samyn bases the structure of her first full-length collection on early American captivity narratives, accounts written by women such as Mary Rowlandson and Mary Jemison, who were removed from their world and held as prisoners in the wilderness before being returned to "civilization." With wit and discernment, Samyn explores the themes of captivity, removal and return, and enchantment. She invites us into a world of wonder, giving voice to characters from carnivals and fairy tales: the Disappearing Girl, the Mesmerist, and Gretel. A series of Alice in Wonderland variations captures perfectly the mix of the mundane and the marvelous we would expect to hear from Alice.
These are imaginatively conceived and finely crafted poems; Samyn's lines are light and clean, though rich with internal rhyme; her imagery and leaps of association are quick and evocative. This is a truly captivating collection.
Mary Ann Samyn has graduate creative writing degrees from both Ohio University and The University of Virginia where she had a Hoyns Fellowship. The author of a chapbook, Rooms by the Sea, she lives with her husband in northern Michigan and teaches at Kirtland Community College.

---