---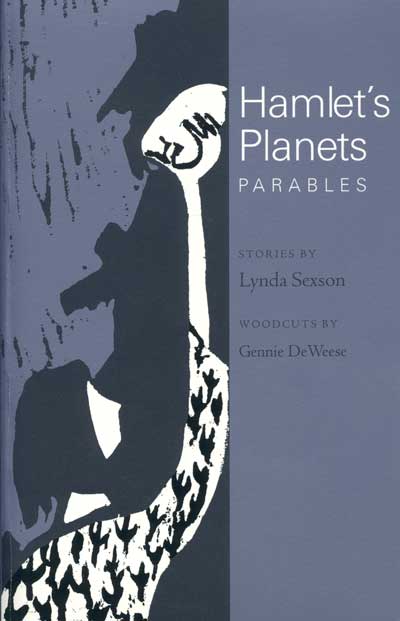 Hamlet's Planets
Parables
Lynda Sexson
Woodcuts by Gennie DeWeese
"This book is a jewel box. The stories are exquisitely crafted; every sentence is both perfectly weighted and startling. Many phrases are simply drop-dead gorgeous." —InterMountain Woman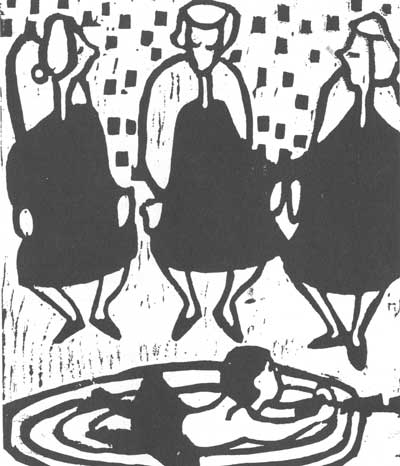 Lynda Sexson's Hamlet's Planets is as good for bedtime reading as for classroom teaching: a collection of seventeen parables that range from quiet reveries to playful turns on age-old questions. A fresh take on the parable, Sexson's collection is a book for the millennium.
Rooted in "real" life—and often evoking distinctive characters—the stories lure the reader into philosophical and psychological realms. Some stories are overtly symbolic; others resemble conventional short stories while constituting riddles. Accompanied by striking woodcuts by the artist Gennie DeWeese, these are witty stories that deftly engage the reader.
In a postscript, Sexson responds to questions about the parable. "What is it that a parable wants? . . . Parables are those stories that talk back, are both cause and remedy of the amnesia of self. . . . We are living in a parabolic curve."
Sexson's previous works have been highly praised. Her first book, Ordinarily Sacred, has been called "an extraordinarily original book," "on its way to becoming a classic." Her collection of stories, Margaret of the Imperfections, has been called "a mesmerizing first collection," and Sexson herself "a master of enchantment." "In Sexson's earthy, meticulous tales, anything is possible and everything is significant," commented Publishers Weekly.
Lynda Sexson is professor of humanities at Montana State University. She holds the Montana Award in the Humanities and is a frequent lecturer and a prizewinning teacher. She is the author of Ordinarily Sacred, now in its fourth printing, and Margaret of the Imperfections, which won the Pacific Northwest Booksellers Award. Gennie DeWeese has received several awards, including the Montana Governor's Award in the Arts.

---