---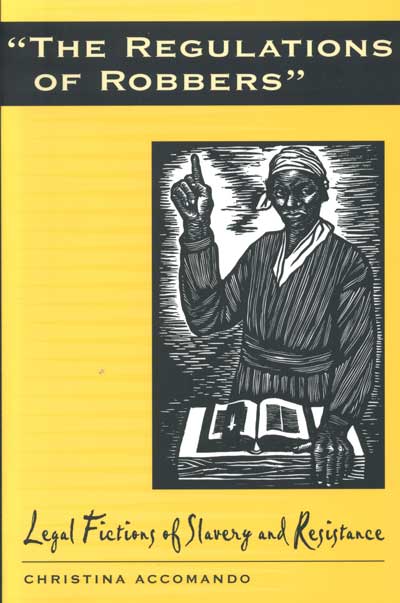 "The Regulations of Robbers"
Legal Fictions of Slavery and Resistance
Christina Accomando
"This is a very strong work. The chapters on Sojourner Truth and Harriet Jacobs present clear, cogent arguments on race, representation, and legal fictions. Accomando uncovers little-known facts and makes judicious use of them for her arguments. Any class studying nineteenth-century American literature or American autobiography and the construction of authorship should be interested in Accomando's packaging of Truth," —Valerie Lee, The Ohio State University
"Professor Accomando has taken seriously the work of an important group of critical race and feminist legal theorists. She has understood the work deeply, interpreted it respectfully, and joined the conversation constructively. The strengths of this book are numerous." —Peggy Cooper Davis, author of Neglected Stories: The Constitution and Family Values
"'The Regulations of Robbers' is an impressive investigation of legal history that illuminates instances of slave agency and resistance from within the very mechanisms that legitimized the system of chattel bondage. A work that makes a valuable contribution to the history of slavery and to studies in law and literature, Accomando's 'The Regulations of Robbers' challenges 'the myth of all-powerful slave laws and silenced slaves' with an intriguing portrait of Sojourner Truth as a 'legal actor.' In Accomando's hands, Truth emerges as an implacable foe of slavery and Jim Crow segregation, asserting her personhood through legal activism. This is a very deft, well-written study that highlights the sort of 'testimony' often overlooked in conventional histories of slavery." —Felipe Smith, Director of African Diaspora Studies, Tulane University
"Accomando's employment of multiple consciousness is just the right choice to stimulate our intellectual imaginations of legal fictions not only about slavery and resistance but about an abundance of other kinds of received knowledge as well." —Frances Smith Foster, author of Witnessing Slavery: The Development of Ante-bellum Slave Narratives, and Written by Herself: Literary Production by African American Women, 1746–1892.
In "The Regulations of Robbers," Christina Accomando examines legal, political, and literary discourses of slavery and resistance through the works of judges, lawmakers, and former slaves. She builds on the words of Harriet Jacobs—"I regarded such laws as the regulations of robbers, who had no rights that I was bound to respect"—and advocates a methodology of multiple perspectives, exposing the false neutrality of legal discourse and turning attention to stories that have been suppressed.
Accomando analyzes Sojourner Truth (who initiated lawsuits and petitioned Congress) and Harriet Jacobs (who shaped her autobiography into legal critique) as legal actors who challenged nineteenth-century legal constructions of African Americans. She argues that laws governing slave behavior, racial identity, miscegenation, rape, reproduction, literacy, and property defined African Americans as nonhumans, with dangerous sexuality and nonexistent subjectivity. She traces how nineteenth-century constructions of race and gender continue to inform modern policy discussions.
Accomando's analysis of slavery and resistance reveals the entrenched racism in U.S. law and also points to concrete opportunities—past and present—for resistance.
Christina Accomando is an assistant professor of English and ethnic studies at California State University–Humboldt.

---