---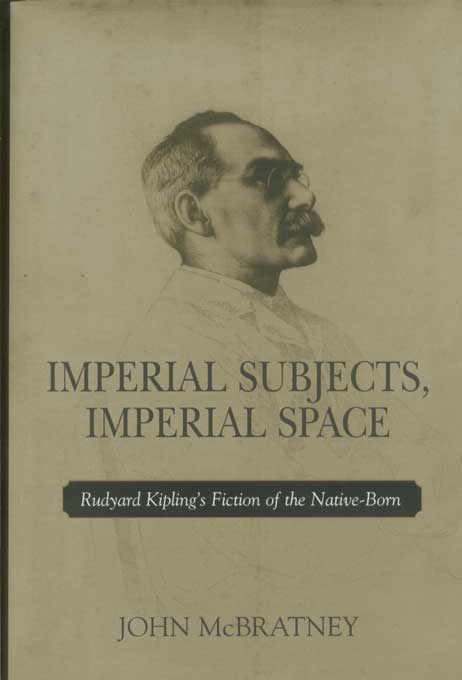 Imperial Subjects, Imperial Space
Rudyard Kipling's Fiction of the Native-Born
John McBratney
"McBratney illuminates Kipling's imperialism in a new and convincing manner." —Choice
"This is quite simply the best critical book on Kipling." —Zohreh Sullivan, University of Illinois at Urbana–Champaign
"McBratney's Imperial Subjects, Imperial Space is a carefully detailed, illuminating exploration of two foundational ideas. At the center in the "native-born" is the white creole who inhabits Kipling's fictions so insistently and who, he argues, serves as the ordering element for Kipling's envisioning of empire. Surrounding the native born is felicitous space or a narrative area in which sociogenetic constraints are suspended and where one can engage in a kind of free experiment of personal identity and social role." —Don Randall, Bilkent University
Why was Rudyard Kipling so drawn in his fiction to the figure of the foreign-born Briton—what Kipling called the "native-born"?
The answer lies in McBratney's Imperial Subjects, Imperial Space, the first full-length study of a figure central to Kipling's major imperial fiction: the "native-born." In these narratives Kipling sees the native-born fulfilling two important roles: model imperial servant and ideal imperial citizen. The special abilities that allow the native-born to play these roles derive from his identity as neither exclusively British nor simply "native." This study also provides the most thorough analysis of that figure's hybrid, "casteless" selfhood in relation to shifting attitudes toward racial identity during Britain's "New Imperialism." In its endeavor to place the liminal subject within a particular moment in British discourses about race and nation, this book illuminates both the complexities of subject construction in the late Victorian and Edwardian periods and the struggles today over identity formation in the postcolonial world.
John McBratney is associate professor of English at John Carroll University.

---