---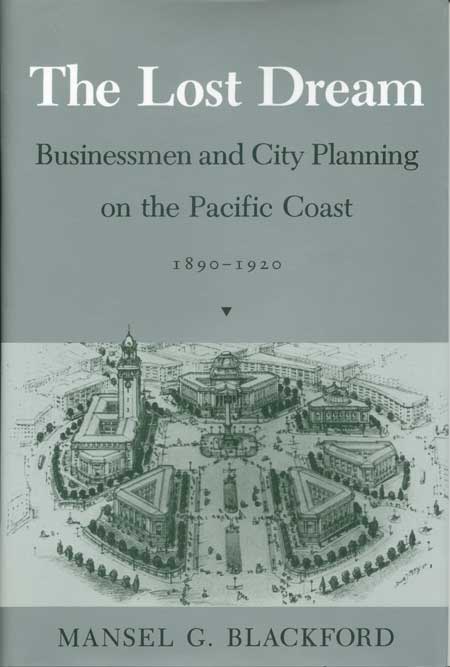 The Lost Dream
Businessmen and City Planning on the Pacific Coast, 1890–1920
Mansel G. Blackford
Mansel Blackford's The Lost Dream explores the history of city planning in five Pacific Coast cities—Seattle, Portland, Oakland, San Francisco, and Los Angeles—during the Progressive Era. Although city planning had diverse roots, Blackford shows that much of the early planning originated with businessmen who viewed it as a way to shape their urban environments both economically and socially.
During the opening years of the twentieth century, the business and political leaders in each of these cities began developing comprehensive city plans encompassing harbor improvements, new street and transportation facilities, civic centers, and parks and boulevards. As Blackford shows, businessmen worked through both established political channels and newly formed bodies outside of those channels to become leaders in the planning process. As the planning campaigns evolved, businessmen found themselves both joined and opposed by ever-changing coalitions of professionals, politicians, and workers.
The way that businessmen had previously interacted with these other parties greatly affected their success in obtaining their goals, but ultimately, Blackford claims, politics lay at the heart of planning. The proposed plans were accepted or rejected in heated citywide elections in which, to be successful, businessmen had to convince others to vote with them—a feat they achieved in only one city. Nevertheless, these plans were often later adopted in some piecemeal fashion, and Blackford concludes his study with an analysis of the legacy of Progressive Era city planning for later periods.
The Lost Dream makes significant contributions to our understanding of city planning in America and particularly in the American West.
Mansel G. Blackford is professor of history at The Ohio State University and is the author of a number of books on business history, including The Politics of Business in California, 1890–1920; The Rise of Modern Business in Great Britain, the United States, and Japan; A Portrait Cast in Steel: Buckeye International and Columbus, Ohio, 1881–1980; and A History of Small Business in America.

---