---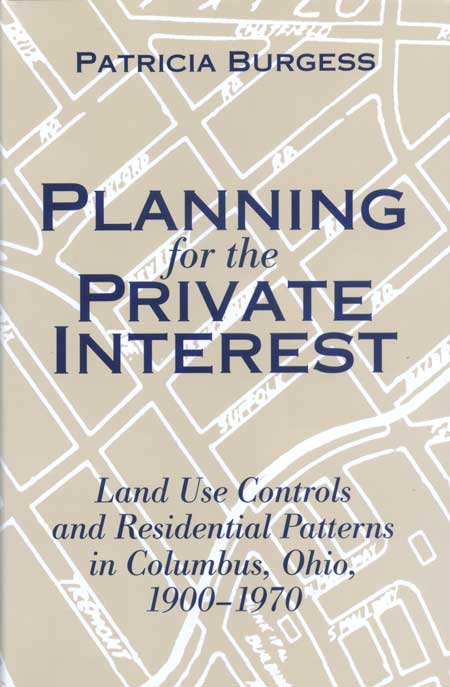 Planning for the Private Interest
Land Use Controls and Residential Patterns in Columbus, Ohio, 1900–1970
Patricia Burgess
In this intriguing study, Patricia Burgess examines how both public and private land use controls affected urban growth and development in Columbus, Ohio. Burgess considers how real estate developers applied restrictive deed covenants in order to shape contemporary metropolitan areas, and she examines the simultaneous application of zoning to determine the role of the public sector. She also outlines the planning theory of zoning and measures the actual zoning against the goals of its earliest and strongest proponents, the reformist planners and lawyers of the early twentieth century.
Using Columbus and seven of its suburbs as a case study, Burgess relies on extensive research in public records—recorded plats, deeds, planning reports, and minutes and records of city and suburban planning commissions and zoning boards—to paint a picture of a changing metropolitan area, subdivision by subdivision, lot by lot. Both the private and public controls applied to these subdivisions and lots do much to explain why people live where they live and how our American cities came to be the way they are.
Planning for the Private Interest has implications for the individual landowner because most urban Americans live in zoned communities but have little understanding of how zoning works until their plans for their own property come into conflict with local ordinances. Moreover, studies of this nature indicate the subtle but formidable forces that influence both class and race relations in metropolitan areas and reveal solutions as well as impediments to resolving potential conflicts. Readable and engaging, Burgess's work will be of great interest to scholars and students of regional history, urban growth and development, city planning, and urban sociology.
Patricia Burgess is associate professor in the Department of Community and Regional Planning at Iowa State University. She has published articles in the Journal of Planning Literature, Business History Review, and the Journal of Urban History.

---