---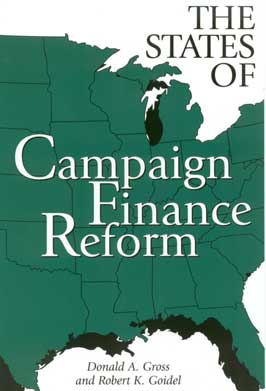 The States of Campaign Finance Reform
Donald A. Gross and Robert K. Goidel
"This work seeks to gauge the electoral consequences of campaign finance reform, specifically reforms implemented in state gubernatorial elections. There are many intended and unintended consequences of any reform effort, and the authors have done a very good job of identifying and exploring each. The States of Campaign Finance Reform will be required reading for scholars of campaigns, elections, and state politics." —Joel Thompson, Appalachian State University
"This book is strongly needed. The previous focus in the literature on campaign finance reform has been on the federal level. This book presents the first scholarly analysis of the impact of state campaign finance reform laws on campaign spending, electoral competition, and turnout in gubernatorial campaigns in all fifty states. Gross and Goidel have performed a tremendous service to the profession by their innovative measures and skillful handling of statistical analysis." —Sarah McCally Morehouse, University of Connecticut
The States of Campaign Finance Reform provides the most comprehensive and methodologically sophisticated analysis of state campaign finance laws to date. Utilizing two decades' worth of gubernatorial campaign finance data across the fifty states, The States of Campaign Finance Reform breaks new ground in the debate over campaign reform and, in doing so, challenges the assumptions of both reformers and their critics.
Since 1974, the vast majority of the research on campaign finance has focused on U.S. national elections. As a result, our understanding of the electoral consequences of campaign finance laws has been largely (though not entirely) limited to a single regulatory regime—the Federal Election Campaign Act of 1971 and its subsequent amendments. This book bridges these gaps by focusing on the impact of state campaign finance laws on candidate spending, voter turnout, and electoral competition in gubernatorial elections.
Donald A. Gross is professor of political science at the University of Kentucky. Robert K. Goidel is Director of Public Policy and Research and associate professor of political science and mass communication at Louisiana State University.

---