---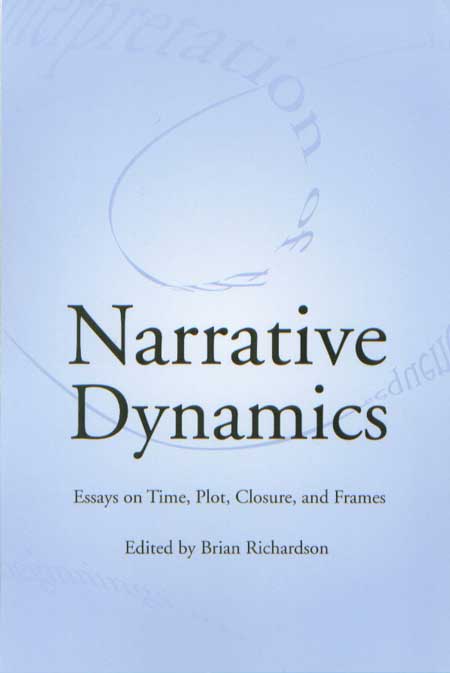 Narrative Dynamics
Essays on Time, Plot, Closure, and Frames
Edited by Brian Richardson
"Brian Richardson's intelligently conceived Narrative Dynamics brings together essays that provide a richly multifaceted discussion of the essential property of narrative: the sequential representation of sequential events." —Emma Kafalenos, Washington University, St. Louis
This anthology brings together essential essays on major facets of narrative dynamics, that is, the means by which "narratives traverse their often unlikely routes from beginning to end." It includes the most widely cited and discussed essays on narrative beginnings, temporality, plot and emplotment, sequence and progression, closure, and frames. The text is designed as a basic reader for graduate courses in narrative and critical theory across disciplines including literature, drama and theatre, and film.
Narrative Dynamics includes such classic exponents as E. M. Forster on story and plot; Vladimir Propp on the structure of the folktale; R. S. Crane on plot; Boris Tomashevsky on story, plot and motif; M. M. Bakhtin on the chronotope; and Gerard Genette on narrative time. Richardson highlights essential feminist essays by Nancy K. Miller on plot and plausibility, Rachel Blau Duplessis on closure, and Susan Winnett on narrative and desire; these are complimented by newer pieces by Susan Stanford Friedman on spatialization and Robyn Warhol on serial fiction. Other major contributions include Edward Said on beginnings, Hayden White on historical narrative, Peter Brooks on plot, Paul Ricoeur on time, D. A. Miller on closure, James Phelan on progression, and Jacques Derrida on the frame. Recent essays from the perspective of cultural studies, postmodernism, and artificial intelligence bring this collection right up to the present.
Brian Richardson is associate professor of English at the University of Maryland.

---