---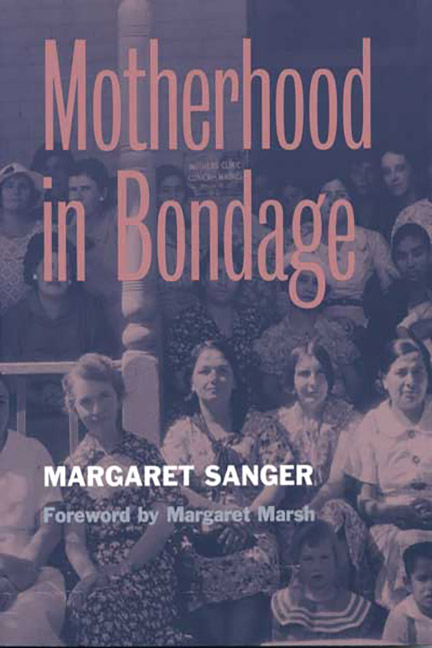 Motherhood in Bondage
Margaret Sanger
Foreword by Margaret Marsh
Margaret Sanger (1883–1966) was a leading figure in the American birth control movement. Trained as a nurse, she moved to New York City to work among the poor. Having witnessed firsthand the travails of mothers in the city's poorest neighborhoods, she felt the need to provide them with information on reproduction and contraception. She abandoned her nursing career and devoted the rest of her life to disseminating information on women's reproduction and contraception, publishing books and articles and founding birth control clinics.
In Motherhood in Bondage, first published in 1928, Sanger reproduced letters written to her from women and sometimes men from all over the country, in both urban and rural areas, who were seeking advice on reproductive matters and marital relations, but mostly imploring her to help them find ways to avoid more pregnancies. The letters are grouped by theme into sixteen chapters, and Sanger wrote an introduction to each chapter.
In her new foreword for this edition, Margaret Marsh describes the controversies surrounding these letters and places them in their historical context.
Margaret Marsh is a professor of history at Rutgers University and Dean of the faculty of Arts and Sciences and the Graduate School for the Camden campus.

---