click here to see excerpts from the book
---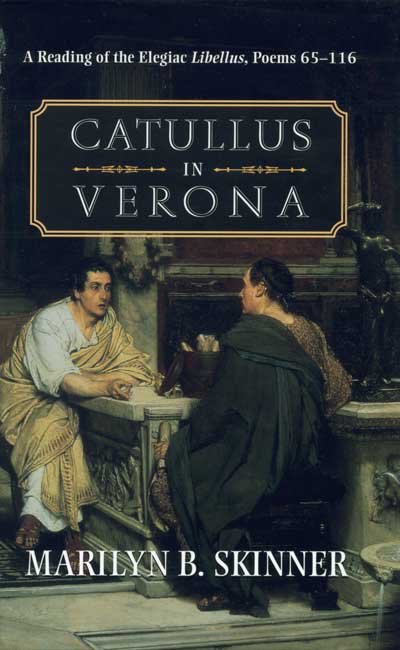 Catullus in Verona
A Reading of the Elegiac Libellus, Poems 65–116
Marilyn B. Skinner
"Skinner's Catullus in Verona . . . gives a dazzling demonstration of how even the seemingly over-familiar can yield fresh insights. Subtly interweaving old biographical platitudes and new literary theory, persona and person, she offers us a Catullus (sorry, construct of Catullus) faced with a public and private crisis of late Republican values—political, social, and literary—that forced him to abandon his neoteric models, to rethink all his relationships; plus a Lesbia, the 'written woman,' who here generates more semantic flux than heartbreak. Skinner's readers, too, will end by rethinking a group of poems they thought they knew. This is no small achievement." —Peter Green, The Times Literary Supplement
"This book is an important contribution to the study of Catullus, and more broadly to the study of Latin poetry. As an example of erudite scholarship and sensitive, supple criticism, I believe it will be of interest as well to a wider audience, including scholars and students working in other disciplines in the humanities." —David Wray, assistant professor of classics, University of Chicago
Gaius Valerius Catullus is one of Rome's greatest surviving poets and also one of the most popular Latin authors. Comprehensive treatments of his work have been hindered, however, by the problems posed by the Catullan collection as it has come down to us. Although many scholars now believe that Catullus did publish his verse in one or more small volumes (libelli), the theory that these books were rearranged after his death means that individual pieces continue to be read and analyzed separately, without reference to their placement within the collection. Skinner challenges this theory of posthumous editorship by offering a unified reading of Catullus' elegiac poetry (poems 65–116 in our collection) and arguing that it constitutes what was once a separately circulated libellus whose authorial arrangement has been preserved intact. Purportedly issued from the poet's native city, Verona, to his Roman readership, the volume presents itself as a valedictory.
This reading of the elegiac collection represents a major departure in Catullan studies. The methodological contention that Catullus' elegiac poems are better approached as a single cohesive poetic statement makes this book a valuable new contribution to Catullan scholarship.
Marilyn B. Skinner is professor of classics at the University of Arizona.

---