---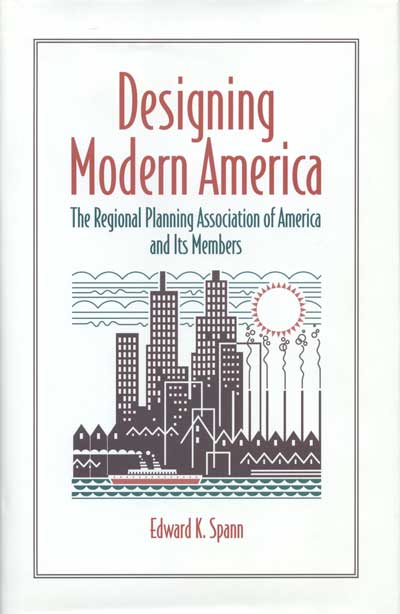 Designing Modern America
The Regional Planning Association of America and Its Members
Edward K. Spann
This fascinating book examines the Regional Planning Association of America (RPAA), a loosely organized association of ambitious and influential planners who hoped to guide the new urban and industrial developments of the early twentieth century and thereby design a radically improved America. After discussing the roots of this effort in the Progressive and World War I periods, Edward K. Spann traces the development of the RPAA from its formation in 1923 through the decades of its greatest effort (which ended in 1934) to its ultimate demise in the late 1930s. Taking a biographical approach and drawing on both published works and private correspondence, the book focuses on the richly varied thoughts and activities of the leading members of the RPAA regarding significant aspects of urban and regional planning.
The members of the RPAA discussed here include Charles Harris Whitaker, Frederick L. Ackerman, Robert D. Kohn, Benton MacKaye, Clarence Stein, Lewis Mumford, Henry Wright, Robert Bruere, Stuart Chase, Edith Elmer Wood, and Catherine Bauer. Spann threads together the philosophies and work of these individuals by focusing on important points in the movement's history, such as the emergence of a community housing movement in World War I, the development of Benton MacKaye's seminal idea of the Appalachian Trail as an instrument for rural reconstruction, and Lewis Mumford's efforts to foster the idealism he thought necessary for successful planning. Spann also looks at Clarence Stein's work with regional planning in New York State during the governorship of Alfred E. Smith; the birth of the RPAA and its early publicity efforts, which culminated in the famous regional planning issue of Survey Graphic; the RPAA's differences with the Regional Plan of New York; the relationship between the RPAA and Franklin Delano Roosevelt during the Great Depression; and the early years of the Tennessee Valley Authority.
This work should appeal not only to students of city and regional planning, of architecture, and of environmentalism, but to all those interested in the intellectual developments of the period between 1914 and 1938, especially as they relate to an important phase of modernization in the United States.
Edward K. Spann is professor of history at Indiana State University and the author of Ideals and Poliitcs, The New Metropolis, Brotherly Tomorrows, and Hopedale.

---