---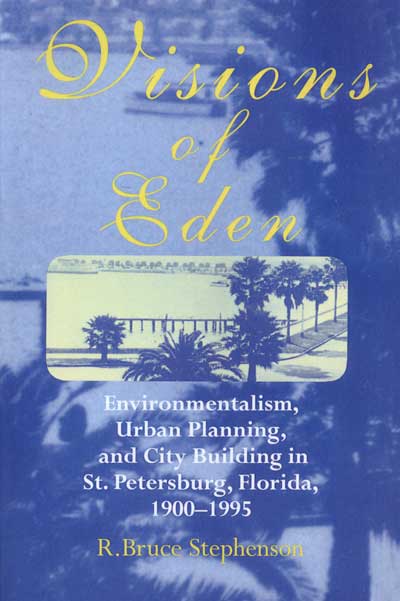 Visions of Eden
Environmentalism, Urban Planning, and City Building in St. Petersburg, Florida, 1900–1995
R. Bruce Stephenson
"Stephenson's story of the rise, fall, and resurrections of a good idea takes the reader on a whirlwind tour through planning, political, and public works history. It also contains several messages we should all bear in mind. One is that any city planning should be truly comprehensive and environmentally responsible, considering both what we have built and what we have inherited, and balancing what we want with what we need. Another is that planners and zoning officers must share the same goals. The third is a timely and painful reminder to those of us who frequently lose patience with the way things work, and that is that no one really cares about the future when the present is glittering so brightly." —Environmental History
"This study is the first book-length treatment of St. Petersburg's development and is a major contribution to American urban and urban-planning history." —Choice
Florida enjoys the only subtropical climate in the continental United States. Its burgeoning population and robust tourist economy attest to the state's special allure. Innovative new towns like Miami Lakes and Seaside, along with established communities such as Winter Park and Coral Gables, exemplify Florida's beauty and potential.
St. Petersburg, the largest city in Florida's most urbanized county, epitomizes the best and the worst of the state's city planning history. Enterprise and technology transformed this once struggling backwater into an air-conditioned vision of Eden, but a heavy debt was accumulated in the process. Paradise is under siege: wetlands have been drained, mangroves cleared, sand dunes leveled, bays degraded and filled; water must be imported from inland wells. Although the city now has an innovative growth management system, it was perilously late in coming. In Visions of Eden, R. Bruce Stephenson examines how St. Petersburg learned to control its development.
Since the turn of the century, the opportunity to design a city nestled in a subtropical garden has attracted the nation's preeminent planners to St. Petersburg. The most ambitious plan was developed in 1923 by John Nolen, who believed that an interconnected system of preserves and parks would enhance the city's development and attract tourists for generations. His initiative failed miserably at the polls, however, because it threatened the conflicting notion of paradise held by hundreds of investors, who were profiting from the greatest real estate boom in the nation's history and feared that planning would curtail speculation. As Stephenson points out, a half century would pass until a series of ecological disasters in the 1970s finally compelled city officials to adopt an environmentally sound development plan that reflected Nolen's original vision.
Stephenson carefully explores St. Petersburg's slow awakening to ecological responsibility—to the importance of designing a community that meets both human needs and economic demands. As the debate over the "New Urbanism" moves forward, this book will serve as a useful guide for those who will plan, build, and inhabit the cities of the twenty-first century.
R. Bruce Stephenson is an associate professor and chair of the environmental studies department at Rollins College in Winter Park, Florida.

---