---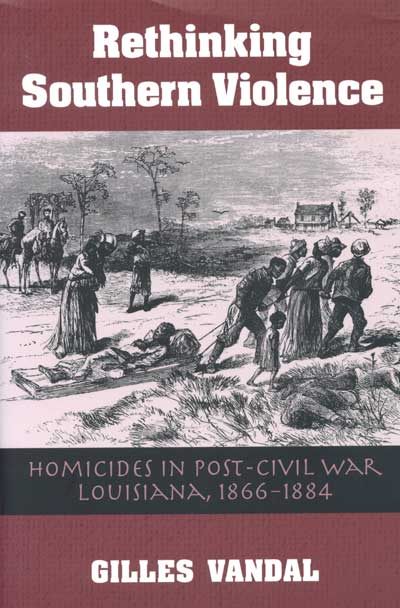 Rethinking Southern Violence
Homicides in Post–Civil War Louisiana, 1866–1884
Gilles Vandal
By analyzing nearly 5,000 homicides over an eighteen year period, Gilles Vandal provides a clear picture of the level of physical violence in Louisiana after the Civil War. He combines statistics with more traditional sources to draw conclusions about the patterns of violence and their geographical distribution. Examining post-Civil War Louisiana homicide from various perspectives, this book shows that patterns of homicide varied widely from one region to another, between racial and ethnic groups, and between genders.
Vandal also compares the situation in rural areas with that in New Orleans, the state's largest city. He examines the motivations for criminal violence and provides an explanation for the emergence of lynching as an acceptable form of punishment, especially against African Americans. This study points to a clear dichotomy between the general lawlessness of whites and the relatively nonviolent attitude of blacks during Reconstruction. Finally, Rethinking Southern Violence shows how black intraracial homicides became an important component of the general atmosphere of lawlessness in the South as the degradation of social, legal, and political conditions which characterized the Reconstruction period increasingly alienated blacks.
The quantity of data analyzed, the issues raised, and the methodological approach used takes Vandal's work beyond the traditional study of violence in southern society. Not only does he deal with issues and subjects rarely addressed by historians, but he also opens new paths for understanding the roots of violence in twentieth-century America.
Gilles Vandal is a professor and chair of the department of history and political sciences at the Université de Sherbrooke in Canada. His articles on race and violence in the post bellum South have appeared in the Journal of Social History and the Journal of Interdisciplinary History.

---