---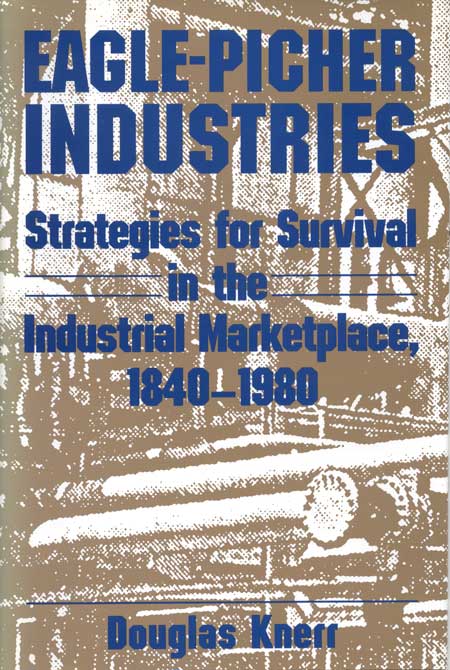 Eagle-Picher Industries
Strategies for Survival in the Industrial Marketplace, 1840–1980
Douglas Knerr
This comprehensive history traces the evolution of Eagle-Picher Industries, a manufacturing firm based in Cincinnati, Ohio, for almost 150 years. Focusing on events prior to the company's involvement in toxic tort litigation, which forced it to file bankruptcy, this work examines Eagle-Picher's development as a diversified industrial manufacturer.
From a closely held, regional producer of white lead and other paint pigments, Eagle-Picher became an important miner and processor of non-ferrous metals by investing in zinc-lead fields in Missouri, Kansas, and Oklahoma during the early twentieth century. Once ore reserves in these areas were depleted, the company turned to manufacturing industrial goods and pursued an aggressive and unique expansion and diversification program during the post-World War II ear. During the 1950s, 1960s, and 1970s, Eagle-Picher acquired over twenty-five firms, all manufacturers of industrial goods, and assembled a broadly based specialized productive capacity.
Eagle-Picher's history illustrates a number of important trends and concepts. First, its experiences in the late nineteenth century provide a valuable look at how smaller firms adapted to the forces of consolidation in the economy. Further, Eagle-Picher's experience as an industrial manufacturer demonstrates the ways in which mid-sized firms grew by focusing on market niches overlooked by larger firms. Finally, Eagle-Picher's approach to acquisition and diversification is unique in today's competitive marketplace. Eagle-Picher's commitment to limited diversification built around historical strengths, its acquisition of successful firms, and its efforts to establish strong lines of communication and effective controls between the central office and the divisions stand in stark contrast to the efforts of many acquisitive firms during recent mergers.
Douglas Knerr (website) is associate professor of social sciences at Roosevelt University and author of Suburban Steel: The Magnificent Failure of the Lustron Corporation, 1945–1951 (The Ohio State University Press, 2004).

---