---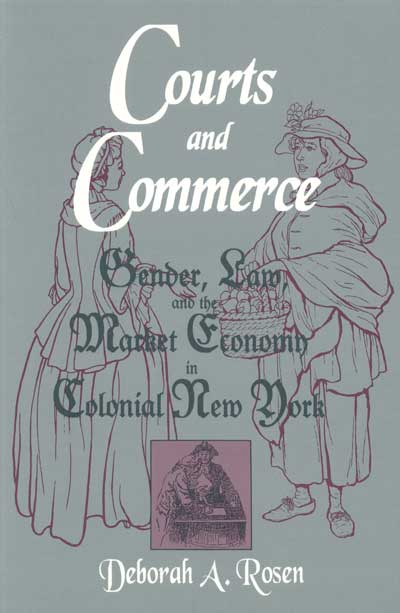 Courts and Commerce
Gender, Law, and the Market Economy in Colonial New York
Deborah A. Rosen
In Courts and Commerce, Deborah A. Rosen intertwines economic history, legal history, and the history of gender. Relying on extensive analysis of probate inventories, tax lists, court records, letter books, petitions to the governor, and other documents from the eighteenth century—some never before studied—Rosen describes the expansion of the market economy in colonial New York and the way in which the law provided opportunities for eighteenth-century men to expand their economic networks while at the same time constraining women's opportunities to engage in market relationships. The book is unusual in its range of interests: it pays special attention to a comparison of urban and rural regions, it examines the role of law in fostering economic development, and it contrasts the different experiences of men and women as the economy changed.
Courts and Commerce challenges the idealized image of colonial America that has dominated historiography on the colonial period. In contrast to scholars who have portrayed the colonial period as a golden age for communal values and who have described nineteenth-century developments as if they had no eighteenth-century precedents, Rosen demonstrates that the traditionally described communal model of eighteenth-century America is a myth, and that in many ways the two eras are marked more by continuity than by change.
Deborah A. Rosen demonstrates that a market economy based on arm's-length relationships did not suddenly emerge in the nineteenth century but already existed during the eighteenth century; that women became marginalized from the economy well before industrialization sent their husbands off to factories; and that the law shaped economic development a century or more before judges began to redefine the substance of the law to protect manufacturers and railway owners against expensive lawsuits by injured employees, neighbors, and consumers.
Deborah A. Rosen is an assistant professor of history and chair of the American Studies Program at Lafayette College. She is a former attorney and the author of several articles in American Journal of Legal History and Law and History Review.

---