---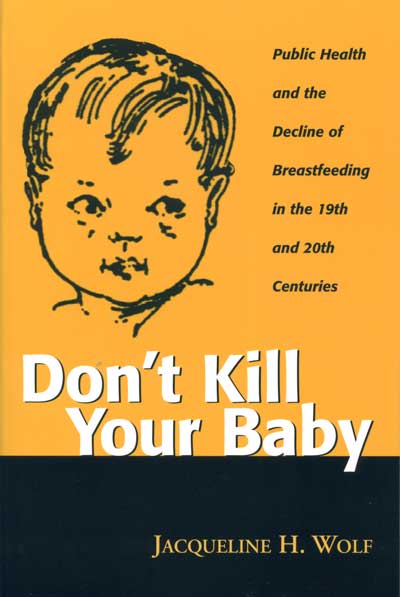 Don't Kill Your Baby
Public Health and the Decline of Breastfeeding in the Nineteenth and Twentieth Centuries
Jacqueline H. Wolf
"This book is an excellent addition to the literature on 'mothers and medicine.' There are a lot of important issues addressed here, especially regarding the role of women in shifting medical policy and the complex interplay between mothers, physicians and milk manufacturers. Wolf's notion that women set the stage for the move from breast to bottle, with doctors and manufacturers then moving in, is especially provocative." —Julia Grant, Michigan State University
"Wolf's book on the unfortunate transition from breast to bottle is essential reading for everyone concerned with life in modern America. She writes an exciting and very personal human story of the mothers, doctors, public health leaders, and politicians who were responsible for and involved with this critical change in child care. More than any other book in this field, Wolf's new information and insights help us all to understand our current situation with regard to infant feeding and child rearing in general. Despite my many years working in the field of infant nutrition and breastfeeding, I learned a great deal that was new, exciting, and important from reading this very readable book. This is not dry history." —Lawrence M. Gartner, M.D., professor emeritus, Departments of Pediatrics and Obstetrics/Gynecology, the University of Chicago; and past president of the Academy of Breastfeeding Medicine.
How did breastfeeding—once accepted as the essence of motherhood and essential to the well-being of infants—come to be viewed with distaste and mistrust? Why did mothers come to choose artificial food over human milk, despite the health risks? In this history of infant feeding, Jacqueline H. Wolf focuses on turn-of-the-century Chicago as a microcosm of the urbanizing United States. She explores how economic pressures, class conflict, and changing views of medicine, marriage, efficiency, self-control, and nature prompted increasing numbers of women and, eventually, doctors to doubt the efficacy and propriety of breastfeeding. Examining the interactions among women, dairies, and health care providers, Wolf uncovers the origins of contemporary attitudes toward and myths about breastfeeding.
Jacqueline H. Wolf is an assistant professor of the history of medicine, Department of Social Medicine, Ohio University College of Osteopathic Medicine, and adjunct assistant professor, Women's Studies Program, Ohio University.

---