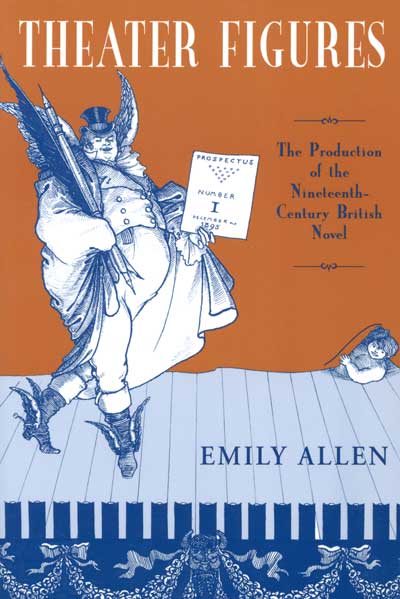 Theater Figures
The Production of the Nineteenth-Century British Novel
Emily Allen
"[T]his historical account of the nineteenth-century novel has a narrative energy that makes it stylistically attractive to readers as well as conceptually important. . . . By ranging over an impressive array of novelistic subgenres, Allen illuminates formal distinctions as she foregrounds the gender wars and attitudes toward the literary market that underlay them; she also provides a dynamic view of the multiplicity of the Victorian novel and the ways in which novelists responded to earlier works. . . . [Its] lively, often humorous style is part of a stage presence that draws its reader in and carries its reader forward." —Victorian Studies
"This book is beautifully written both at the level of the sentence and as an epitome of what literary criticism should do and be. Allen's ability to balance the necessity of heeding previous critics with the task of saying something new and interesting makes the writing in this manuscript among the best in the field of literary criticism." —Laura Mandell, Miami University
Why did nineteenth-century novels return, over and over again, to the scene of theater? Emily Allen argues that theater provided nineteenth-century novels, novelists, and critics with a generic figure that allowed them to position particular novels and novelistic genres within a complex literary field. Novel genres high and low, male and female, public and private, realistic and romantic, all came to identify themselves within a set of coordinates that included—if only for the purpose of exclusion—the spectacular figure of theater. This figure likewise provided a trope around and against which to construct images of readers and authors, images that most frequently worked to mediate between the supposedly private acts of reading and writing and the very public facts of the print market. In readings of novels by Burney, Austen, Scott, Dickens, Jewsbury, Flaubert, Braddon, and Moore, Allen shows how frequently theater appears as figure in novels of the nineteenth century, and how theater figures—actively and importantly—in what we have come to look back on as the history of the nineteenth-century novel.
Theater Figures thus offers a new model for thinking about how theater helped produce changes in the nineteenth-century literary market. While previous critics have considered theater as an enabling foil for the novel—either a constitutive opposite or a constructive ally—Allen demonstrates how theater figures and tropes were used to negotiate competition among the novels and novelists eagerly seeking their share of the literary limelight.
Emily Allen is assistant professor of English at Purdue University.

---