Revised and Back in Print. First published by Johns Hopkins University Press in 1999.

Albertus Magnus has long been recognized as one of the greatest minds of the Middle Ages; his contemporaries conferred upon him the title Doctor Universalis. An epitaph at his tomb described him as prince among philosophers, greater than Plato, and hardly inferior to King Solomon in wisdom. In 1941, Pope Pius XII named Albertus Magnus patron saint of scientists.
In his work De animalibus, Albert integrated the vast amount of information on nature that had come down to him in previous centuries: the exposition of Michael Scotus's translation from the Arabic of Aristotle's books on the natural world (Books 1–19), Albert's own revisions to Aristotle's teachings (Books 20–21), and a "dictionary" of animals appropriated largely from the De natura rerum of Thomas of Cantimpré (Books 22–26). Albert's comprehensive treatise on living things was acknowledged as the reputable authority in biology for almost five hundred years.
In this translated and annotated edition, Kenneth F. Kitchell Jr. and Irven Michael Resnick illuminate the importance of this work, allowing Albert's magnum opus to be better understood and more widely appreciated than ever before. Broken into two volumes (Books 1–10 and 11–26), Albertus Magnus On Animals is a veritable medieval scientific encyclopedia, ranging in topics from medicine, embryology, and comparative anatomy to women, hunting and everyday life, commerce, and much more—an essential work for historians, medievalists, scientists, and philosophers alike.      
Kenneth F. Kitchell Jr. is Professor Emeritus in the Classics Department at the University of Massachusetts Amherst. Irven Michael Resnick holds the Chair of Excellence in Judaic Studies at the University of Tennessee at Chattanooga. Together they have published an earlier edition of Albertus Magnus On Animals: A Medieval Summa Zoologica (1999); Albertus Magnus'sQuestions Concerning Aristotle's "On Animals" (2008); and Albert the Great: A Selectively Annotated Bibliography (1900–2000) (2004).
Contents
Volume I
Foreword
Preface and Acknowledgments
Preface to Revised Edition
Guide to Editorial Conventions and Abbreviations
Note on the Translation
The Writings of Albertus Magnus
Introduction    The Life and Works of Albert the Great
Book One: On Animal and Human Members
The First Tract, on the Diversity of Animal Members
I           The Manner and the Order of Instruction
II          Parts in Animal Bodies
III         Differences among Animals in Lifestyle, Dwelling, and Motion
IV         Criteria for Investigating Animals' Lifestyle
V          The Members of Animals with Respect to Their Functions
VI         Modes of Reproduction in Animals
VII        Differentiation of Members for Progressive Motion
VIII       Diversity of Animals with Respect to Their Common Genuses
The Second Tract, on the Disposition of Human Members
I           Visible, Uniform Parts of the Human Being, and Their Causes
II          Physiognomy of the Human Head, As Far As the Eyes
III         Disposition of the Eyes
IV         Composition of the Ear and Its Physiognomy
V          Shapes and Divisions of the Bones of the Head
VI         Number and Shape of the Bones of the Head
VII        Composition and Shape of the Eyes
VIII       Composition and Physiognomy of the Nose and Cheeks
IX         Composition and Physiognomy of the Jaw, Lips, and Mouth
X          The Voice and the Tongue and Its Physiognomy
XI         Vertebrae of the Neck and Back
XII        Thorax, Arms, and Attached Members
XIII       Bones of the Thighs, Lower Leg, and Feet
XIV       Muscles of the Head, Neck, and Throat
XV        Muscles of the Chest and Arms
XVI       Muscles of the Back, Stomach, Testicles, Bladder, and the Members Up to the Thigh
XVII      Anatomy of the Muscles Used for Walking
XVIII     Nerves Descending from the Brain
XIX       Anatomy of the Nerves of the Neck and Back
XX        Anatomy of the Arteries
XXI       Anatomy of the Veins
XXII      Physiognomy of the Neck, Windpipe, and Mery
XXIII     Composition and Physiognomy of the Chest and Breasts
XXIV     Anatomy of the Belly, Groin, Genitals, Womb, and Bladder
XXV      The Syfac, Myrach or Perytheron, the Zyrbum, and the Anus
XXVI     Anatomy and Physiognomy of the Posterior Members
The Third Tract, on the Internal Members
I           Anatomy and Nature of the Brain
II          Esophagus, Windpipe, and Lungs
III         Disposition of the Stomach and Intestines
IV         Anatomy of the Heart, Lung, and Diaphragm
V          Anatomy of the Liver, Spleen, and Gall Bladder
VI         Disposition and Function of the Kidneys
VII        Disposition and Physiognomy of the Skin
Book Two: A Comparison of the Human and Other Animals
The First Tract, on the Visible Members
I           Upper Members of the Head, Neck, and Chest
II          Visible Members for Movement
III         Animals' Horns and Generative Members
IV         Teeth, the Mouth, and the Tongue
V          Visible Members of Blooded, Oviparous Quadrupeds
VI         Visible Members among Feathered Birds
VII        Visible Members of Fish
VIII       Exterior, Visible Members of Serpents
The Second Tract, A Comparison of the Internal Members of Animals and Humans
I           Inner Parts of Blooded Animals
II          Inner Members of Serpents, Fish, and Birds
III         Generative Members of Animals and Humans
IV         Wombs of Viviparous and Oviparous Animals
Book Three: On the Origin of the Uniform Members in Animals
The First Tract, on the Veins, Blood, and Nerves
I           The Ancients on the Origin of the Veins and Blood
II          Aristotle on the Veins
III         Galen's Criticism of Aristotle
IV         Avicenna's Views
V          Averroes's Views
VI         The Disagreement between Aristotle and Galen
VII        Nerves Having the Heart As Their Principle
The Second Tract, on the Uniform Members Which Are Not Continuous
I           Bones, Cartilage, Horns, Nails, the Sole, and the Beak
II          Hair, Scales, and the Plumes of Birds
III         Natural and Unnatural Moistures of Animals
IV         On These Humors
V          Webs, Flesh, Sepum, and Sagimen Generated from the Humors
VI         Dispositions of Blood
VII        Nature and Diversity of the Marrow Moisture
VIII       The Stoics and Peripatetics on Spermatic Fluid
IX         Nature and Disposition of the Milky Fluid
Book Four
The First Tract, on Bloodless Marine Animals
I           The Malachye and Its Members
II          Soft-Shelled Animals
III         The Hard-Shelled and the Ostrea Conchylia
IV         Those between Hard- and Soft-Shelled, Resembling the Spider
V          Sea Urchins
VI         Sea Anemone, Concae, and Testae
VII        Animals Having Ringed Bodies
VIII       Woody Animals, Serpentine Ones, the Penis Fish, the One Like Egg White, and the Sponges
The Second Tract, on Sense, Voice, and Sleep in Bloodless Animals and the Difference between Male and Female
I           Instruments of Sensation
II          Type of Voice and Sound
III         Sleeping and Waking
IV         Differentiation by Sex
Book Five: On the Generation of Animals
The First Tract, on Differences in Their Copulation
I           Copulation in General
II          Copulation in Flying, Walking, and Quadrupedal Animals
III         Egg Laying in Aquatic Birds
IV         Copulation in Ringed Creatures
V          Impregnation and Egg Laying in Sea Fish
VI         Differences in Egg Laying among Nonaquatic Birds
The Second Tract, on Sperm Production and the Formation of Young
I           The Time at Which Animals Produce Sperm
II          Noncopulative Generation in the Ostrea Concilia
III         The Shellfish Crab and the Sponges Called Gamen
IV         Egg Laying in Soft-Shelled Animals, Malakye, and Polypeds
Book Six: The Nature, Anatomy, and Generation of Eggs
The First Tract, on Diversity among Eggs
I           Number, Color, and Shape of Nests and Eggs
II          Eggs before They Emerge from Oviparous Animals
III         When Birds Lay, Incubate, and Hatch Their Chicks
IV         The Completion of Eggs and the Formation of the Chick
V          Twin Eggs and the Number of Eggs in Various Birds
VI         Incubation and Care of the Young among Birds of Prey
The Second Tract, on the Eggs of Fish and Swimmers
I           Eggs of Fish, Those Which Conceive Eggs but Generate Live Young, and Viviparous Marine Animals
II          Fish Which Produce Incomplete Eggs and Those Generated without Copulation and Eggs
III         Gestation Period in Oviparous and Nonoviparous Fish
The Third Tract, on the Generation of Viviparous Walkers
I           Rutting Animals, Female Superfluities, and the Gestation Period
II          Copulation, Impregnation, and Parturition of Quadrupeds
III         Generation of the Animals Mentioned Above
Book Seven
The First Tract, on the Dispositions and Life of Animals
I           The Way Nature Moves through Gradual Intermediaries
II          Animal Dwellings, on Water or on Land
III         Differences in Fish Foods
IV         Food of Oviparous Quadrupeds
V          Food of Viviparous Quadrupeds and Ringed Creatures
VI         Animal Migrations
VII        Differences in Oviparous Animals Arising from Their Habitats
VIII       Dwellings of Walking Animals and the Migrations of Fish
IX         Animals Which Shed Their Skin
The Second Tract, on Health and Illnesses of Animals
I           Birds and Fish
II          Quadrupedal Animals
III         Ringed Animals
IV         The Lands in Which Certain Genuses Prosper
V          Animal Hybridization and the Toxicity of Poisonous Animals
VI         Shellfish, Crabs, and Fish
The Third Tract, a Digression on the Things Introduced
I           Breathing, Nonbreathing, Aquatic, and Terrestrial Animals and Those Midway Between
II          Why Animals Hunt Certain Foods
III         Why Certain Animals Hibernate and Others Migrate
IV         Molting and Shedding the Skin
V          Health or Illness in Animals Due to Place
Book Eight: On Animals' Habits
The First Tract, on Why They Fight One Another
I           Accidents of Animals' Souls
II          Fights Animals Have over Food, Home, and Young
III         Natural Friendship and Enmity among Animals
The Second Tract, on Animal Prudence and Stupidity
I           The Prudence of Various Animals, Especially the Deer
II          The Prudence Animals Exhibit in Healing Their Diseases
III         The Greater Cleverness of the Small Animals
IV         The Cleverness of the Large Birds
V          The Cleverness of Many Small and Mid-Sized Birds
VI         The Raven and Vulture, Which Predict the Destruction of Cities
The Third Tract, in One, on the Cunning and Cleverness of Sea Creatures
The Fourth Tract, on Cleverness in Ringed Creatures
I           Activities of Ants and Spiders
II          A Comparison of Bees to Other Ringed Creatures and to One Another
III         The Bees' Making of Hives, Honey, and Wax
IV         Things Harmful to Bees
V          The Skill Required to Control Bees
VI         On Differences in Wasps' Generation and Lifestyle
The Fifth Tract, on the Habits of Quadrupeds
I           The Lion, the Wolf, and the Bonacus
II          The Elephant, Camel, Horse, Dolphin, Hen, and Parrot
III         Changes Occurring Due to the Castration of Animals
IV         Differences in Animal Coloration
The Sixth Tract, Solving Doubts Arising Above
I           Animal Prudence and Stupidity
II          The Liberal and Mechanical Arts in Brute Animals
Book Nine: On the Principles and Origin of Human Generation
The First Tract, on Human Origin from a Mature Seed
I           Puberty, When the Semen First Begins to Descend to the Groin
II          Maturation of the Human Sperm at around the Twenty-first Year
III         The Signs of Impregnation and the Formation of the Conceptus
IV         Common Occurrences in Pregnant Women
V          Twins
VI         Differences in Reproductive Potential
VII        The Sperm, the Embryo's Position in the Womb, and the Umbilicus
VIII       The Birth of Animals and Nursing the Child
The Second Tract, Treating Galen and Aristotle on Human Generation
I           Galen's Theories on Conception and Generation
II          The Weakness of Galen's Theories
III         Female Sperm
IV         Embryo Formation, Following the Peripatetics
V          When the Conceptum Assumes Human Appearance
VI         The Reason for Twins
Book Ten: On Impediments to Generation
The First Tract
I           Dispositions of the Womb Which Block Conception
II          Reproductive Impediments Arising from Male and Female Sperms
III         Female Sperm, Even When It Does Not Aid in Generation, Is Still Called Sperm
IV         The Reproductive Impediment Called a Mole of the Womb
The Second Tract, on the Causes of Sterility
I           Causes of Sterility from the Man or Woman
II          On a Mole of the Womb and on Miscarriage
III         Pregnancy and the Birth of Male or Female
IV         On the Gestation Period and on Difficult Births

Volume II
Book Eleven
The First Tract, on the Order of Instruction on Animals
I           Demonstration in a Science of Animals
II          How One Must Proceed in a Science of Animals
III         The Number and Types of Causes
The Second Tract, on the Ultimate End of Animals
I           Concerning a Science of Animals
II          Whether One Has to Begin from Universals or Particulars
III         Whether and How Physical Causes Should Be Sought
IV         The Division of Formal Causes
Book Twelve: On the Causes of Uniform and Nonuniform Members
The First Tract, on Uniform and Principal Members
I           Differences between Uniform and Nonuniform Members
II          Uniform Members' Complexions
III         The Hot, Cold, Dry, and Moist in Uniform Members
IV         Composition and Complexion of an Animal
V          Stages of Life
VI         Digestion and the Generation of the Humors
VII        The Effects of Heat and Cold in the Brain and Marrow
The Second Tract, on the Nature of Uniform Members
I           The Nature of Blood, Which Is the Matter of Uniform Members
II          The Nature of Fat, Zirbus, and Marrow
III         The Nature of the Brain, According to Aristotle
IV         The Brain, According to the Modern Peripatetics, Experience, and Reason
V          The Cause and Nature of Nerves
VI         The Cause of Bones and Cartilage
VII        Superfluities Generated in Animals' Bodies
VIII       Flesh, Bones, Spines, and the Malakye Genuses
The Third Tract, on the Organic Members of the Head
I           The Head, Insofar As It Is the Origin of the Senses
II          Ears and Nostrils
III         Eye, Eyelids, and the Hairs That Surround the Eye
IV         The Nose of Certain Oviparous Animals and the Elephant
V          Lips, Teeth, Tongue, and Their Uses
VI         Nature, Cause, Types, and Number of Teeth
VII        The Cause and Nature of Horns on the Heads of Animals
Book Thirteen: On the Inner Members
The First Tract, on the Windpipe, Esophagus, and Lungs
I           The Windpipe and Esophagus and Their Natural Causes
II          Composition of the Windpipe and Lungs
III         Esophagus and Stomach
IV         The Inner Parts and the Nature and Cause of the Heart
V          Why the Veins Arise from the Heart in Animals
VI         Lung, Liver, and Spleen and Their Natural Operations
VII        Liver and Spleen
VIII       Kidneys and Bladder, and Their Absence in Certain Animals IX         Diaphragm
The Second Tract, on the Intestines
I           Belly
II          Intestines
III         Usefulness of the Intestines
IV         The Inner Members and Gall Bladder in Creeping Animals
V          Generation of the Mirach of the Belly, Fat, and Zyrbum
VI         Animals Which Lack the Inner Members of the Belly
VII        Inner Members in Those Midway between Plant and Animal
Book Fourteen: On the Outer Members
The First Tract, on the Outer Members of Ringed Animals, Shellfish, and the Malakye
I           Ringed Creatures
II          Shellfish
III         Those Called Soft-Shelled Animals
IV         The Malakye
The Second Tract, on the Visible Members
I           Purpose of the Belly, Hands, Feet, and Neck
II          The Hand and the Use of Feet in Quadrupeds
III         Chest and Breasts in the Human and in Other Animals
IV         Genital Members in Both Males and Females
V          Visible Members of Oviparous Quadrupeds
VI         Visible Members of Birds
VII        Visible Members of Fish
Book Fifteen: On the Causes of the Generation of Animals
The First Tract, on the Distinction between the Sexes
I           Sexual Differentiation Is Not Found in All Animals
II          Differences between Male and Female
III         Creation of Testicles in Animals
IV         Speed of Copulation in Animals Without Testicles, with Internal Testicles, or with External Testicles
V          Differences in the Wombs of Animals
VI         Why Wombs Are Internal in All Animals
VII        Genital Members in Hard- and Soft-Shelled Animals, the Malakye, and Those with a Ringed Body
VIII       A Digression on the True Understanding of the Genitals
The Second Tract, on the Nature of the Sperm
I           Whether the Sperm Is Derived from All the Members, As Plato Said
II          Whether the Sperm Is Derived from the Entire Body, As Anaxagoras and Empedocles Said
III         The Implausibility of What Empedocles and Anaxagoras Said
IV         What Sort of Principle of Generation Is the Sperm?
V          How the Sperm Is Present in the One Producing It
VI         The Nature of Male Sperm, Female Sperm, and Menstrual Blood
VII        On Pleasure in Intercourse and on the Female Genital Area
VIII       Relationship between Male Sperm and the Female Humor
IX         Union of Male and Female Sperm in Generation
X          Male Sperm and Its Powers
XI         Male Sperm, Female Sperm, and Menstrual Blood
Book Sixteen: On The Powers of Reproduction, With Respect Both to the Soul and to the Members
The First Tract, on the Introduction of the Soul
I           How Male and Female Are the Principles of Generation
II          The Power Moving Embryos, According to the Ancient Philosophers and Physicians
III         A Digression, Following Alexander the Peripatetic
IV         A Digression, Following Avicenna, Theodorus, Theophrastus, and the Peripatetics
V          A Digression, Following Socrates, Plato, and the Stoics
VI         The Solution, Following Aristotle, Who Saw the Truth
VII        Summary
VIII       Whether the Sperm Is Animate and Whether the Powers of the Soul Create the Members Successively or All at Once
IX         Why Sperm Grows Black and Thins in the Cold
X          How the Soul Is Generated in the Fetation
XI         The Vegetative, Sensible, and Rational Soul in Semen
XII        Why Aristotle Says Soul Is in the Semen but Not Intellect
XIII       How Sperm Is Made Suitable for Generation
XIV       On Sex Determination and on Similarity to the Father, Mother, or Another
XV        Why the Female Provides the Body but the Male the Form and Soul
XVI       The Later Peripatetics' Opinion on Oviparous Animals, Sperm, and the Animation of Embryos
XVII      Why Male and Female Are Necessary for Viviparous Reproduction and Why the Rational Soul Can Have No Factive Principle in the Semen
The Second Tract, on Sterility in Animals and on the Generation of Homogenous Members
I           Accidental Causes of Sterility and the Creation of the Embryo
II          Why the Female Cannot Generate without the Male and the Generation, Differentiation, and Completion of the Members
III         Why the Heart Is Said to Be the Principle of the Members
IV         Generation of the Homogenous Members
V          Creation of the Head and the Members in the Head
VI         How the Dominant Members Are Formed After the Heart
VII        How the Growth of the Embryo Is Accomplished
VIII       On Which Animals Are Impregnated from Copulation and on Sterility
IX         Sterility in She-Mules, According to Democritus and Empedocles
X          The True Cause of Sterility in She-Mules
XI         Summary
Book Seventeen: On Oviparous Animals
The First Tract, on Oviparous Birds
I           Those Who Lay Many Eggs and Those Who Lay Few
II          Eggs and the Humors Contained in an Egg
III         The Shape of Eggs, Their Creation in the Womb, and Hatching
IV         The Order of Generation of Animals' Members in Eggs
V          Against Those Who Claim That There Is No Male or Female in Fish
VI         Completion of Eggs, Specifically Wind Eggs, by the Sperm
The Second Tract, on the Ringed Creatures
I           Generation of Larvae
II          Triple Generation of Bees, According to Various Opinions
III         Three Opinions on the Generation of Bees
IV         Generation of the Halzum
V          The Moving Principle in the Generation of Shellfish
Book Eighteen: On the Generation of Perfect Animals
The First Tract, on the Differentiation of the Sexes
I           Sexual Differentiation, According to Empedocles and Democritus
II          Sexual Differentiation, According to Aristotle and Other Peripatetics
III         The Heart As the Principle of Sexual Differentiation. Also, Those Which Generate Mostly Females and Those Which Generate Mostly Males.
IV         Resemblance to Parents or Forebears
V          Erroneous Opinions on Resemblance to Parents or Forebears
VI         Monstrous Births Having a Resemblance to the Proximate Genus
The Second Tract, on the Number of Offspring
I           Body Size Determines the Number of Offspring
II          Why Many Offspring May Be Conceived from One Act of Copulation
III         Hermaphroditic Fetations and Other Monsters
IV         Successive Impregnations and Excessive Desire
V          Generation of Complete or Incomplete Young
VI         Impregnated Females and a Mole of the Womb
VII        Generation, Cause, and Usefulness of Milk
VIII       Gestation Period in Animals
IX         Powers of Generation
Book Nineteen: On the Senses and Their Accidents
I           Accidental Traits in General
II          How the First Accidental Trait Is Similar to Sleep
III         Colors of the Eyes Caused by the Eye's Humors
IV         On Eye Colors Caused by the Tunics and on Vision
V          Good Hearing and Smelling
VI         Hair, Growing Bald, and the Like
VII        Cause of Greyness and Wrinkledness in the Human
VIII       Cause of Colors in Animals Other Than the Human
IX         Differences of Voice in Animals
X          Origin, Appearance, and Falling Out of Teeth in Animals
Book Twenty: On the Nature of Animal Bodies
The First Tract, on What Constitutes the Body
I           Seminal Moisture of Animate Beings
II          Dry and Earthy Material for Animate Bodies
III         Nature of the Air Shared by Animal Bodies
IV         How Fire Is Shared by Animal Bodies
V          Whether a Fifth Essence Is Substantially Present in Animal Bodies
VI         That Heavens Are Not Substantially Present in Animal Bodies
VII        Resolving Arguments That a Fifth Essence Is in Our Bodies
VIII       The Mixture of Material Principles in Animal Bodies
IX         How a Triple Moisture Is the Binding Agent in Mixed Bodies
X          How the Mixing of Animal Bodies Is Completed
XI         Complexions of the Humors
The Second Tract, on the Formal Powers
I           Power of the First Cause
II          Formal Heavenly Power and How It Acts
III         Formal Principle of the Body from the Soul
IV         Formal Causes of an Animal's Body from the Four Elements
V          How All the Principles Mentioned Arise Out of One
VI         How Animal Powers Differ and How the Human Differs
Book Twenty-One: On Perfect and Imperfect Animals
The First Tract, on Degrees of Perfection
I           The Most Perfect Animal, the Human
II          On Types of Perfection of the Soul and Body, and on the Pygmy
III         How Animals, Especially Monkeys, Are Capable of Instruction
IV         Teachability of Quadrupeds
V          Capacity for Instruction among Birds
VI         Cleverness and Shrewdness of Aquatic Animals
VII        Prudence and Shrewdness of Serpents and Creeping Animals
VIII       Shrewdness and Perfection of Ringed Creatures
IX         Distinctions among Imperfect Animals
Book Twenty-Two: On the Natures of Animals
The First Tract, on the Human
I           Human Intercourse
II          Quality of the Seeds in the Womb
III         The Seeds, the Young, the Humors, and the Heavenly Signs
IV         Harmful Effects of Intercourse
V          Natural and Divine Properties of the Human
The Second Tract, on Quadrupeds
I           Nature and Traits Quadrupeds Have in Common
ALCHES
ALFECH
ALOY
ANA
ANABULA
ANALOPOS
ASINUS
ASINUS SILVESTRIS
APER SILVESTRIS
ALZABO
HAHANE
BONACHUS
BUBALUS
BOS
CAMELUS
CANIS
CAMA
CALOPUS
CAMELOPARDULUS
CAPER ET CAPRA
CAPREOLUS
CASTOR
CACUS
CATHUS
CEFUSA
CERVUS
CHYMERA
CYROGRILLUS
CUNICULUS
CRICETUS
CYROCHROTHES
CATHAPLEBA
DAMMA
DAMPNIA
DAXUS
DURAU
ELEFAS
EQUI
EQUICERVUS
EALE
ENYCHYROS
EMPTRA
ERICIUS
ERMINIUM
FALENA
FURO
FURIOZ
FELES
FINGA
GLIS
GALI
GENETHA
GUESSELIS
IBEX
IBRIDA
ISTRIX
IENA
LEO
LEOPARDUS
LEPUS
LEUCROCOTHA
LEONCOPHONA
LACTA
LAMIA
LAUZANY
LINX
LINTISIUS
LUPUS
LUTER
MULUS
MONOCEROS
MOLOSUS
MARICON MORION
MANTICORA
MUSQUELIBET
MAMONETUS
MIGALE
MUSIO
MUSTELA
MUS
MARTARUS
NEOMON
ONAGER
ONAGER INDICUS
ONOCENTAURUS
ORIX
ORAFLUS
OVIS
PARDUS
PANTHERA
PIRADER
PEGASUS
PILOSUS
PAPIO
PATHYO
PUTORIUS
PIROLUS
RANGYFER
SIMIA
TIGRIS
TAURUS
TRANEZ
TRAGELAFUS
TROGODYTAE
TALPA
UNICORNIS
URSUS
VESONTES
URNI
VULPES
VARIUS
ZUBRONES
ZILIO
Book Twenty-Three: On the Nature of Birds
AQUILA
ACCIPITER
ARPYA
AGOTHYLEZ
ARDEA
ANSER
ANAS
ACHANTIS
ASSALON
ALAUDA
ALCIONES
AERIFYLON
AVES PARADISI
BUBO
BUTEUS
BUTORIUS
BISTARDA
BONASA
BARLIATES
CALADRIUS
CYNAMULGUS
CIGNUS
CARISTAE
CICONIA
CHORETES
CALANDRIS
CORVUS
CORNIX
CORNICA
CUGULUS
COREDULUS
COLUMBA
CHARCHOTES
CHORTURNIX
CARDUELIS
CROCHYLOS
DYOMEDICA
DARYATHA
EGITTHUS
I           Shape of Falcons
II          Particular Color of Falcons
III         Characteristic Behavior of Falcons
IV         How Falcons Call and Are Called
V          The Seventeen Falcon Genuses and the First, Called "Sacred"
VI         Gyrfalcon
VII        "Mountain" Falcon
VIII       Peregrine Falcons
IX         Gibbous Genus of Falcon
X          Black Falcons
XI         Nature of the White Falcon
XII        Nature of Red Falcons
XIII       The Falcon Which Has Azure Feet
XIV       The Small Falcon Called the Merle
XV        The Three Genuses of Lanners and Their Rearing
XVI       The Four Genuses of Interbred Falcons
XVII      Domestication, Boldness, and Health of Falcons
XVIII     Cures for Falcon Illnesses, According to William the Falconer
XIX       Cures, According to Emperor Frederick's Falconer
XX        Goshawk Illnesses, According to Emperor Frederick
XXI       Regimen for Goshawks, According to William the Falconer
XXII      Hawking and the Domestication of Hawks
XXIII     Aquila, Symmachus, and Theodotion on the Illnesses of Birds of Prey
XXIV     Two Other Falcon Genuses and Their Habitats
FATATOR
FENIX
FETYX
FICEDULA
FULICA
GRIFES
GRACOCENDERON
GOSTURDUS
GRUS
GLUTIS
GALLUS
GALLINA
GALLUS GALLINACIUS
GALLUS SILVESTRIS
GARRULUS
GRACULUS
IBIS
IBOZ
INCENDULA
IRUNDO
IPSIDA
KYRII
KARKOLOZ
KOMER
KYTHES
LARUS
LUCIDIAE
LUCINIA
LINACHOS
LAGEPUS
MILVUS
MAGNALES
MELANCORIFUS
MORFEX
MEMNODIDES
MEAUCAE
MERRILLIONES
MUSCICAPAE
MEROPS
MERULA
MONEDULA
MERGUS
NISUS
NOCTUA
NEPA
ONOCROTALUS
OTHUS
OSINA
ORYOLI
PELLICANUS
PORFIRION
PAVO
PERDIX
PLATEA
PLUVIALES
PICA
PICUS
PASSER
PASSER SOLITARIUS
PHYLOMENA
PSYTACUS
STRUTIO
STRIX
STURNUS
TURTUR
TROGOPALES
TURDUS
TURDELA
VESPERTILIO
VANELLI
ULULA
UPUPA
VULTUR
ZELEUCIDES
Book Twenty-Four: On Aquatic Animals
I           The Nature of Aquatic Animals Set Forth Alphabetically
ASLET
ALLECH
ANGUILLA
ALFORAZ
ASTARAZ
ALBYROZ
ARIES MARINUS
AUREUM VELLUS
ABARENON
ACCIPENDER
AMIUS
HAMGER
AFFORUS
AUSTRALIS
ARENEA
ABYDES
HAHANE
BELUAE
BARCHERA
BOTHAE
BORBOTHAE
BABILONICI
CETUS
CLANCIUS
CONGRUS
CARPEREN
CAPITATUS
CORVI MARIS
COCLEAE
CONCHA
CANCRI
COCODRILLUS
CAHAB
CRICOS
CELETHI
CHYLON
CANES MARINI
CAERULEUM
DRACO MARIS
DELPHINUS
DIES
DENTRIX
EQUUS MARIS
EQUUS NILI
EQUUS FLUMINIS
EXPOSITA
HELCUS
ESCYNUS
EZOX
HUSO
ERICIUS
EXOCHINUS
ERACLEYDES
FOCA
FASTALEON
GONGER
GOBIO
GRANUS
GALALEA
GARCANEZ
GLADIUS
IPODROMUS
IRUNDO MARIS
KALAOZ
KYLOZ
KOKY
KYLION
KARABO
LULIGO
LUDOLACRA
LOLLIGENES
LOCUSTA MARIS
LEPUS MARINUS
LUCIUS
MURENA
MUGILUS
MARGARITAE
MEGARIS
MULLUS
MULTIPES
MURICES
MUS MARINUS
MULUS
MILAGO
MONOCEROS
MONACHUS MARIS
NEREIDES
NAUTILUS
NASUS
ORCHA
OSTREAE
PURPURAE
PYNA
PUNGICIUS
PECTEN
PORCUS MARINUS
PAVO MARIS
PERNA
PISTRIS
PLATANISTAE
POLIPUS
RANA MARINA
RUMBUS
RAYTHAE
SALMO
STURIO
SPONGIA
SCOLOPENDRA
STELLA
SUNUS
SOLARIS
SCUATINA
SALPA
SEPIA
SPARUS
SCORPIO MARIS
SCARUS
SERRA
SERRA MINOR
SYRENAE
SCILLA
SCINCI
STINCUS
TESTUDINES
TYGNUS
TESTEUM
TORTUCA MARIS
TORPEDO
TREBIUS
TRUTHAE
TIMALLUS
VULPES MARINAE
VIPERAE MARINAE
VENTH
VERGILIADES
VACCA
ZEDROSUS
ZYDEACH
ZYTYRON
XYSYUS
Book Twenty-Five: On the Nature of Serpents
I           The Nature of Serpents in General
II          Understanding the Nature and Complexion of Serpents' Venom
ASPIS
ANFYSIBENA
ARMENE
ASYLUS
ANDRIUS
ASFODIUS
ALTYNANYTY
ARACSIS
ARUNDUTIS
AHEDYSYMON
ALHARTRAF
HAREN
BASILYSCUS
BOA
BERUS
CORNUTA ASPIS
CEREASTES
CAFEZATUS
CAECULA
CERYSTALYS
CELYDRUS
CENCRIS
CAUHARUS
CARNEN
CENTUPEDA
DYPSA
DRACO
DRACO MARINUS
DRACONCOPEDES
EMOROYS
FALITUSUS
JACULUS
IPNAPIS
HYDRA
IRUNDO
ILLICINUS
LACERTAM
MILIARES
MARIS SERPENS
NATRIX
NADEROS
OBTALIUS
PRESTER
PHAREAS
RYMATRIX
SALAMANDRA
SALPIGA
STELLIO
SCAURA
SITULA
SIRENES
SERPS
SPECTAFICUS
STUPIFACIENS
SABRYN
SEYSETULUS
SELFYR
TORTUCA
TYRUS
TYLIACUS
VIPERA
Book Twenty-Six: On Vermin
I           The Nature of Vermin
APIS
ARANEA
ADLACTA
BUFO
BORAX
BLACTAE
BOMBEX
BLUCUS
CICENDULA
CENOMIA
CINIFES
CULEX
CANTARIDES
CRABRONES
CIMEX
CICADA
ERUCA
ENGULAS
FORMICA
FORMICALEON
FORMICAE INDIAE
LIMAX
LOCUSTA
LANIFICUS
MULTIPES
MUSCA
OPIMACUS
PAPILIONES
PHALANGYAE
PULICES
PEDICULUS
RANA
RUTELA
STELLAE FIGURA
SPOLIATOR COLUMBRI
SETA
STUPESTRIS
SANGUISUGA
SCORPIO
THAMUR
TAPPULA
TESTUDO
TINEA
TEREDO
TATINUS
URIA
VERMIS
VERMES CELIDONIAE
VESPAE
Appendix: Alternative Version of the Beginning of De animalibus
Glossary
References
Index
Related Titles: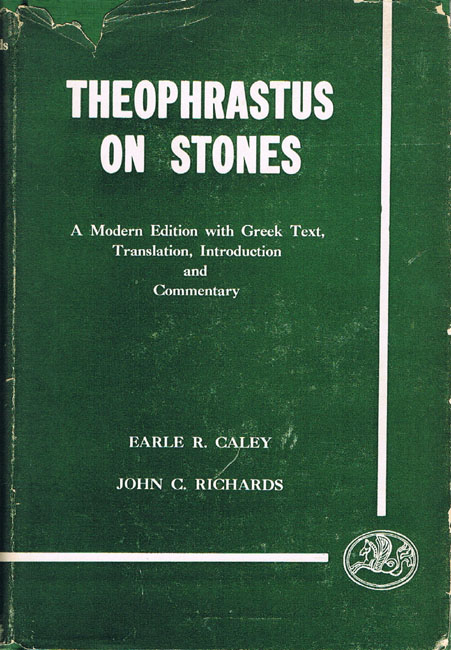 Theophrastus on Stones
E. R. Caley and J. C. Richards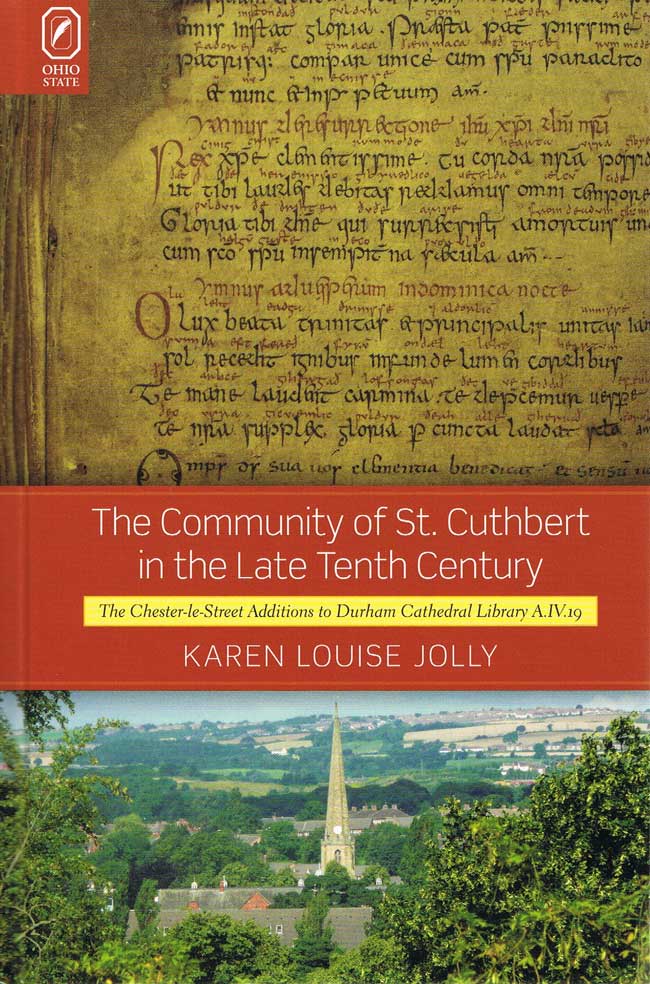 The Community of St. Cuthbert in the Late Tenth Century
Karen Louise Jolly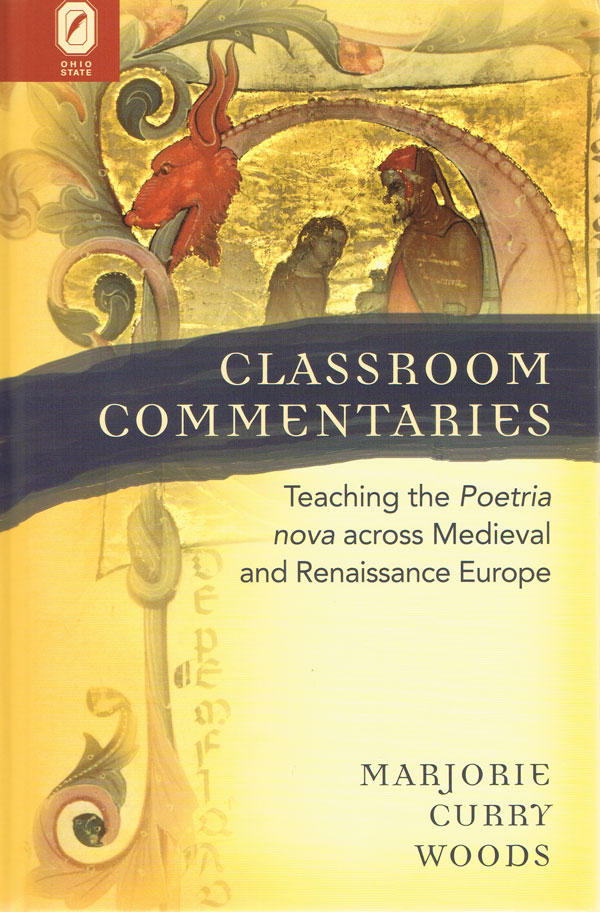 Classroom Commentaries
Marjorie Curry Woods