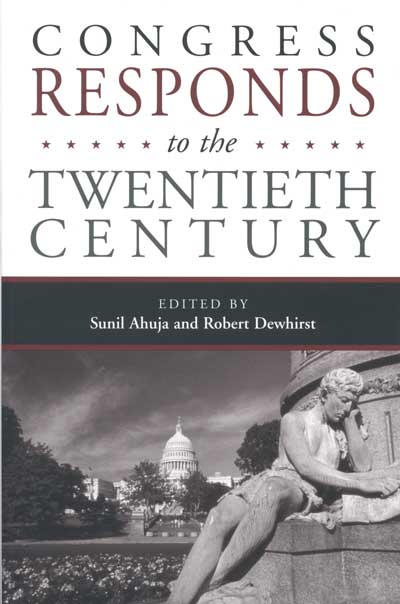 Congress Responds to the Twentieth Century
Edited by Sunil Ahuja and Robert E. Dewhirst
"This book synthesizes what is known about the twentieth century Congress, thereby highlighting a broad array of developmental topics that students must better understand and scholars more extensively explore. Perhaps the major impression that one derives from reading the book is how resilient the institution is, and how creative its members are in crafting new and viable responses to shifting circumstances and challenges. This book will play an important role in shaping our understanding of Congress as an institution." —Lawrence C. Dodd, University of Florida
"This compelling book will be a must read for students of Congress and American politics generally. The main argument is that Congress adapts to the balance of forces within the institution and also to the changing environment outside the legislature. Congress Responds to the Twentieth Century will make a splash with Congress scholars." —Glen Krutz, author of Hitching a Ride: Omnibus Legislating in the U.S. Congress
Congress occupies a central place in the U.S. political system. Its reach into American society is vast and deep. Over time, the issues it has confronted have increased in both quantity and complexity. At the beginning, Congress dealt with a handful of matters, whereas today it has its hands in every imaginable aspect of life. It has attempted to meet these challenges and has changed throughout the course of its history, prodded by factors both external and internal to the institution. The essays in this volume argue therefore that as society changed throughout the twentieth century, Congress responded to those changes.
Contributors include:
George E. Connor
Bruce I. Oppenheimer
James E. Campbell
Steve J. Jurek
Susan Webb Hammond
Barbara Sinclair
Sarah A. Binder
Christopher J. Deering
Patricia A. Hurley
John R. Hibbing
Karen S. Hoffmam
Michael L. Mezey
Burdett A. Loomis
Sunil Ahuja is assistant professor of political science at Youngstown State University. Robert E. Dewhirst is professor of political science at Northwest Missouri State University.

---