---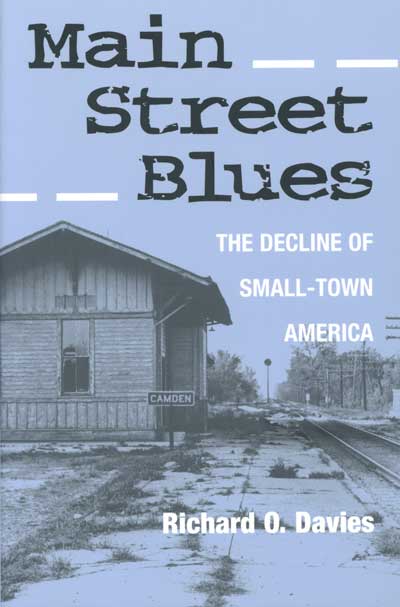 Main Street Blues
The Decline of Small-Town America
Richard O. Davies
"This is local history at its best—a professional research historian's conceptual interpretation of the town in which he grew up in the context of larger historical-geographical forces." —Choice
"Main Street Blues . . . provides a new perspective, an unusual angle of vision, on the history of the United States: the American past through the eyes of the residents of a small town. . . . It is remarkably evocative history, the major contribution of which lies in the nuanced ways in which the author not only re-creates Camden and the world of similar small Midwestern towns but uses its history to illustrate and reflect upon the interplay of local and national and international developments." —Andrew R. L. Cayton, author of Ohio: The History of a People
Richard O. Davies takes the reader through two hundred years of American history as reflected in the small Ohio farming village of Camden. Davies describes the development of the relatively self-sufficient community that emerged from the Ohio land rush of the early nineteenth century, a community that reached its apex during the 1920s and then entered into a period of slow decline caused by forces beyond its control. He details the roles of land speculation, the railroad era, the impact of the automobile, the emergence of a tightly knit community, and finally the post World War II loss of business and population to the nearby cities of Dayton, Hamilton, and Cincinnati.
The author draws heavily on the writings of novelists—particularly Sherwood Anderson, who was born in Camden—sociologists, political scientists, historians, and anthropologists to place Camden within the larger spectrum of regional and national history. He has also plumbed local sources, including manuscripts, public records, interviews, questionnaires, and newspapers.
Richard O. Davies, a native of Camden, is a professor of history at the University of Nevada, Reno. He is the author of America's Obsession: Sports and Society since 1945 and Defender of the Old Guard: John Bricker and American Politics (Ohio State University Press 1993).

---