---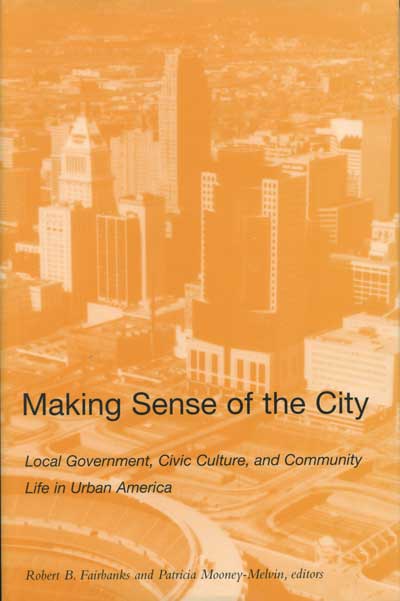 Making Sense of the City
Local Government, Civic Culture, and Community Life in Urban America
Robert B. Fairbanks and Patricia Mooney-Melvin, editors
"This is a satisfying book to read. The authors consistently emphasize that changes in urban government and community life are not bound by standard chronologies of American history. The essays are all original and contribute to an understanding of American urban history. A careful reading of all the essays provides general insight into the process by which changing conceptions over time have affected our understanding of the city and community in America and also provides insight into the needs and demands of present-day urban life. The book is an excellent example of the best of contemporary scholarship." —Charles N. Glaab, University of Toledo
Making Sense of the City explores the ways in which urbanites have attempted to confront the challenges of urban life during the nineteenth and twentieth centuries. In the spirit of Zane L. Miller, whom this volume honors, the ten contributors focus closely on the words and actions of individuals, institutions, and organizations who participated in the public discourse about what the city was or could be. Through an examination of such topics as city charters, city planning texts, neighborhood organizations, municipal recreation programs, urban government reforms, urban identity, and fair housing campaigns, the authors offer insight into the process through which ideas about the nature of the city have affected action in the urban environment.
Contributing authors are
Robert B. Fairbanks
Patricia Mooney-Melvin
Judith Spraul-Schmidt
Alan I. Marcus
Robert A. Burnham
Andrea Tuttle Kornbluh
Bradley D. Cross
Charles F. Casey-Leininger
Roger W. Lotchin
Robert B. Fairbanks is a professor in the Department of History at the University of Texas at Arlington. He is the author of For the City as a Whole (The Ohio State University Press, 1998). Patricia Mooney-Melvin is an associate professor in the Department of History at Loyola University Chicago.

---