---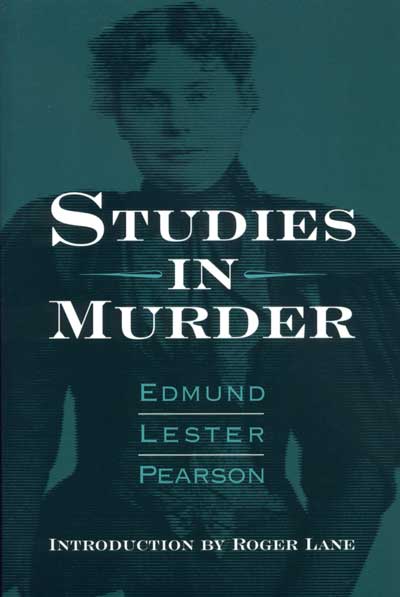 Studies in Murder
Edmund Lester Pearson
Introduction by Roger Lane
"Long out of print and only found in the dusty environs of used bookstores at outrageously high prices, great chunks of the master can now be conveniently sampled by a new generation of true crime addicts. These are presented in a spanking new scholarly edition complete with a thoughtful biographical homage and concise historiography by no less a figure than Professor Roger Lane, the author of Murder in America, the best scholarly book on the history of murder in the United States. Pearson . . . would no doubt be pleased by Lane's and Ohio State's recognition of his pioneering efforts at murder studies now being seriously championed by eminent scholars." —Lawrence Fleischer, The New York Law Journal
Edmund Lester Pearson (1880–1937) was a popular New York journalist and writer. In the 1920s and 1930s he was considered one of the country's best trial and crime reporters. Between 1924, the year Studies in Murder was first printed, and 1936 he published six books about murder cases. He was certainly one of America's best true-crime writers.
The Lizzie Borden case (August 1892) was to Pearson "without parallel in the criminal history of America." It takes center stage in Studies in Murder, and Pearson's version is still considered the classic account of the Borden murders. The three other cases Pearson retells are "The Twenty-Third Street Murder" of New York financier Benjamin Nathan (July 1870); "Mate Bram," about the double murder of a ship captain and his wife; and "The Hunting Knife" murder of Miss Mabel Page in 1904.
Pearson carefully researched these cases and interviewed people connected with each. His accounts are admirably detailed, careful, and clear. In all four cases, the determination of guilt rested on circumstantial evidence, which left unanswered questions still capable of intriguing the contemporary reader. Roger Lane's lively introduction provides information about Pearson and his times.
Roger Lane is Benjamin R. Collins Professor of Social Studies at Haverford College and the author of Violent Death in the City: Suicide, Accident and Murder in Nineteenth-Century Philadelphia (second edition, Ohio State University Press 1999) and Murder in America: A History (Ohio State University Press 1997).

---