"Rosen's massive effort is the first of its kind, and deserves to be the final word(s) on the artist/writer's oeuvre.…Invaluable to Thurberites everywhere." 
—Library Journal (starred review)
Dan Polletta interviews Michael Rosen and Sara Thurber Sauers for IdeaStream
"The most wonderful thing about Thurber's drawings is how they prove the point of a cartoon is not to show off a mastery of perspective or anatomy, or that the cartoonist can render a horse—or a sea—better than anyone else on the planet. Not that I can tell you what the point is, other than it has a lot more to do with being funny than anatomy."
—Roz Chast, author of Can't We Talk about Something More Pleasant?
"Thurber's drawings dropped into the pages of the New Yorker like graphic boulders in a placid pond."
—New Yorker cartoonist Michael Maslin
"Thurber's wit sustains life. He towers over all." —Maira Kalman
Humorist, cartoonist, writer, playwright. James Thurber was to the twentieth century what Mark Twain was to the nineteenth. At one point, his books were the most read of any American in the world. His work could be found anywhere—from the pages of the New Yorker to the pages of children's books, from illustrated advertisements to tea towels and dresses. Now, in celebration of the 125th anniversary of Thurber's birth, A Mile and a Half of Lines: The Art of James Thurber is a long overdue introduction and reintroduction to James Thurber and the artwork that fundamentally changed American cartoons. 
Including some 260 drawings, this collection is the first comprehensive focus on his work as an artist, a cartoonist, and an illustrator. With commentary from a host of preeminent cartoonists and writers, including Ian Frazier, Seymour Chwast, and Michael Maslin, A Mile and a Half of Lines celebrates the significance of Thurber's spontaneous, unstudied, and novel drawing style that not only altered the nature of American cartooning but also expanded the very possibilities of an illustrated line. Coinciding with the first major retrospective of Thurber's art presented by the Columbus Museum of Art in 2019, A Mile and a Half of Lines showcases both classic Thurber as well as visual material never before seen in print.
Learn more about James Thurber at jamesthurber.org
Michael J. Rosen is a writer, an illustrator, and an editor who has collaborated with the Thurber Estate and written about the works of James Thurber for almost forty years. He was the founding literary director of the Thurber House and has edited six volumes of Thurber's work.
James Thurber (1894–1961), the twentieth century's most popular American humorist, authored nearly three dozen collections of cartoons, essays, stories, fables, and biographical works—much of which he published as a founding voice of the New Yorker magazine—in addition to creating a shelf of classic children's books, the gem-like autobiography My Life and Hard Times, and two Broadway productions.

Contents
Acknowledgments
One-Line Storyteller
An Introductory Note by Michael J. Rosen
James Thurber's The Seal in the Bedroom and Other Predicaments, 1932
An Introduction by Dorothy Parker
Chapter 1: The Line of Matisse or a Doodling Child?
with "Ordinary Except for This," by Seymour Chwast
Chapter 2: Signs of the Hard Times
Chapter 3: Thurber's Pre-Intentional Compositions
with "Maslin and Millmoss," by Michael Maslin
Chapter 4: That Thurber Dog and Other Creatures
with "Without Saying a Word," by Liza Donnelly
with "Isn't That Sweet?" by Liza Donnelly and Michael Maslin
Chapter 5: The Draw of Columbustown
Thurber's Walls
An Afterword by Ian Frazier
A Chronology of Solo and Group Exhibitions of James Thurber's Art
Books by James Thurber
Notes and Sources
List of Illustrations
Click here for a PDF with sample pages from the book.
Illustrations by James Thurber
copyright © Rosemary A. Thurber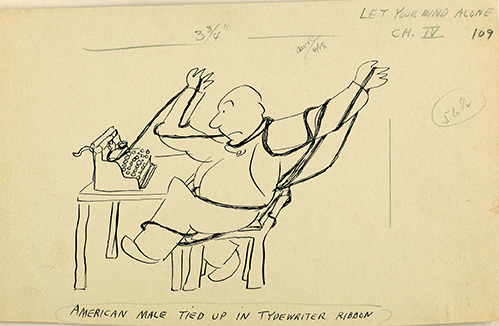 "American male tied up in a typewriter ribbon" from Let Your Mind Alone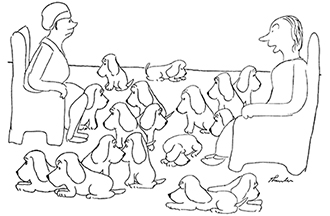 The father belonged to some people who were driving through in a Packard.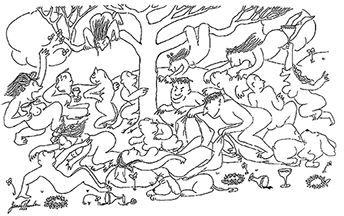 "Venus Surprised by Satyrs in the Midst of a Bacchanalian Dance"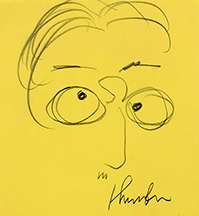 Self Portrait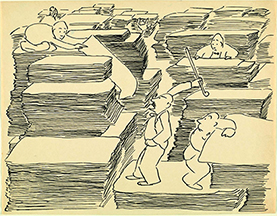 "Men standing on towels in the Denver Mint"
Related Titles: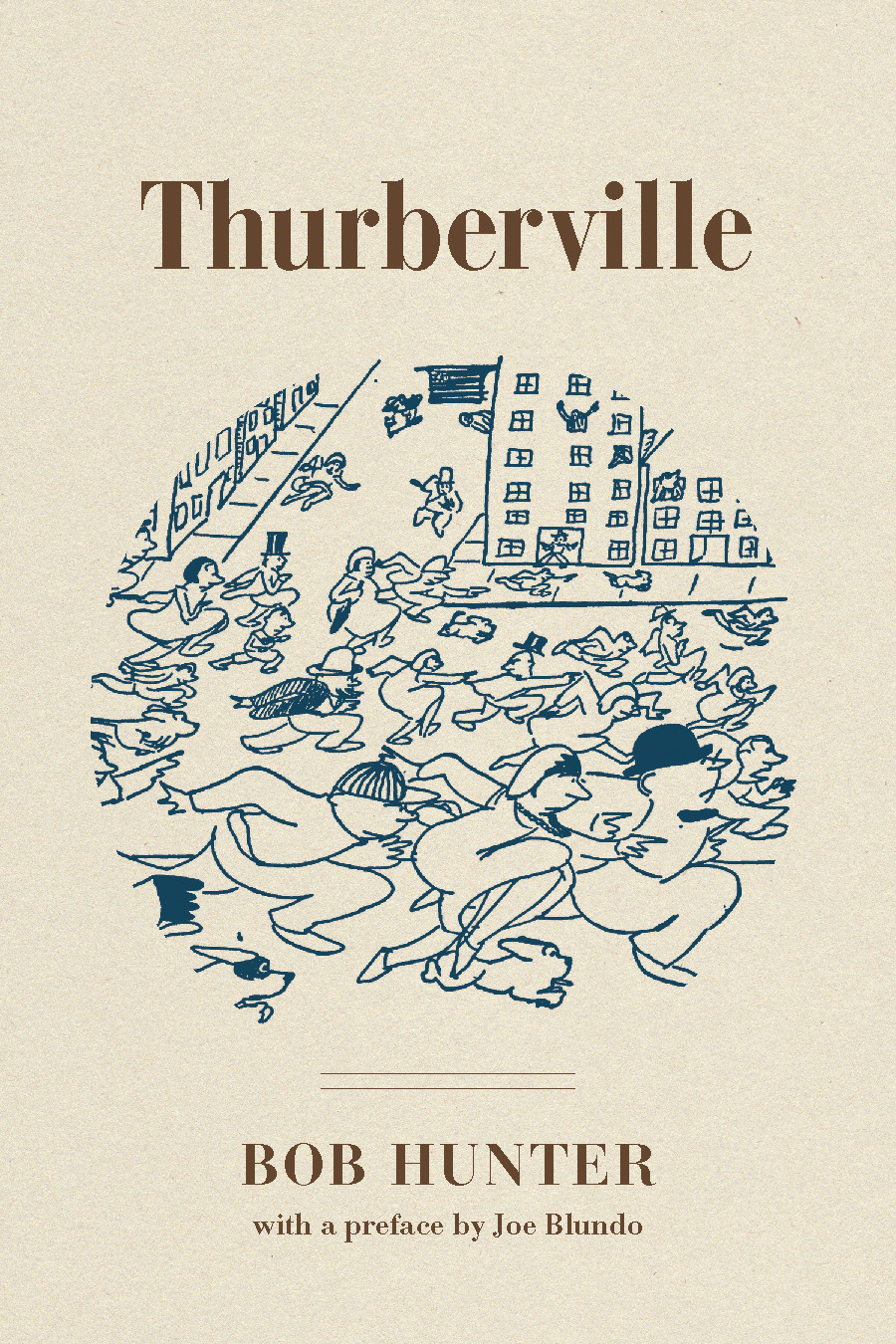 Thurberville
Bob Hunter
With a preface by Joe Blundo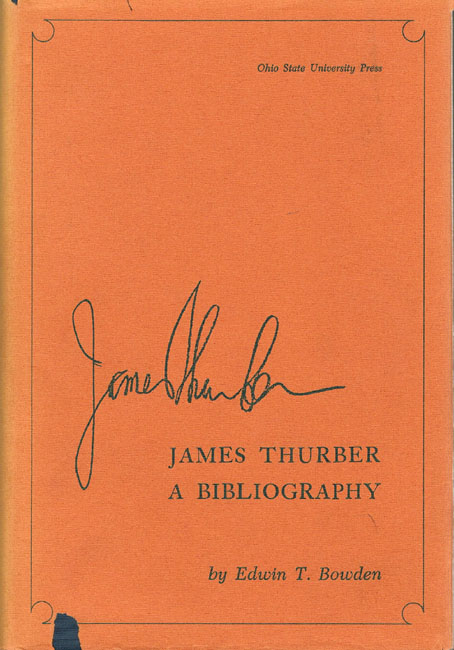 James Thurber:A Bibliography
Edited By Edwin T. Bowden