This book is freely available in an open access edition in the OSU Libraries' Institutional repository, Knowledge Bank, thanks to TOME (Toward an Open Monograph Ecosystem)—a collaboration of the Association of American Universities, the Association of University Presses, and the Association of Research Libraries—and the generous support of The Ohio State University Libraries. Learn more at the TOME website, which can be found at the following web address: http://openmonographs.org.

"Matthew Clark and James Phelan write good clear English as few contemporary critics do. And in terms of his rhetorical poetics, Clark's pages on the Iliad and on 1984 are among the best analyses I have ever read." —David Richter
In Debating Rhetorical Narratology, Matthew Clark and James Phelan provide a model of lively, sharp, and good-natured scholarly exchange. Clark proposes "friendly amendments" to Phelan's theorizing  of the synthetic, mimetic, and thematic aspects of narrative, and Phelan responds, often by explaining why he finds Clark's amendments less-than-friendly. Clark rounds off the debate by offering a brief rejoinder. Clark and Phelan consistently ground their theoretical arguments in their analyses of particular narratives, drawing on a corpus that ranges from Homer's Iliad to Tobias Wolff's In Pharaoh's Army and includes, among many others, Jane Austen's Emma, George Orwell's 1984, and Toni Morrison's Beloved. 
Clark and Phelan's deep dive into the synthetic, mimetic, and thematic leads them to explore many other aspects of narrative and narrative theory: style, audiences, the mimetic illusion, fictionality, and more. Their investigation also leads them into questions about rhetorical narratology's relation to other projects in narrative theory, especially unnatural narratology, and, indeed, about how to assess the explanatory power of competing theories. Ultimately, their debate is compelling testimony about the power of both narrative theory and narrative itself.
Matthew Clark is Professor Emeritus at York University and the author of many books, including Narrative Structures and the Language of the Self (OSU Press, 2010).
James Phelan is Distinguished University Professor at The Ohio State University, the editor of Narrative, and the author of many works, including Somebody Telling Somebody Else: A Rhetorical Poetics of Narrative (OSU Press, 2017).
Contents
Preface                        An Origin Story and a Description of Our Debate (by Matthew Clark and James Phelan)

Introduction (Matthew Clark)

Chapter 1        The Synthetic Aspect (Matthew Clark)

Chapter 2        The Mimetic Aspect (Matthew Clark)

Chapter 3        The Thematic Aspect (Matthew Clark)

Chapter 4        Narrative as Rhetoric and the MTS Model (James Phelan)

Chapter 5        The Mimetic, the Synthetic, and the Criterion of Correspondence; Or Audiences, the Mimetic Illusion, and Ghosts (James Phelan)

Chapter 6        The Thematic and the Relation between Comprehensiveness and Correspondence (James Phelan)

Chapter 7        MTS, Fictionality, and Nonfiction: Tobias Wolff's "Old China" (James Phelan)

Chapter 8        "Yes, but . . ." (Matthew Clark)
Bibliography
Index
Related Titles: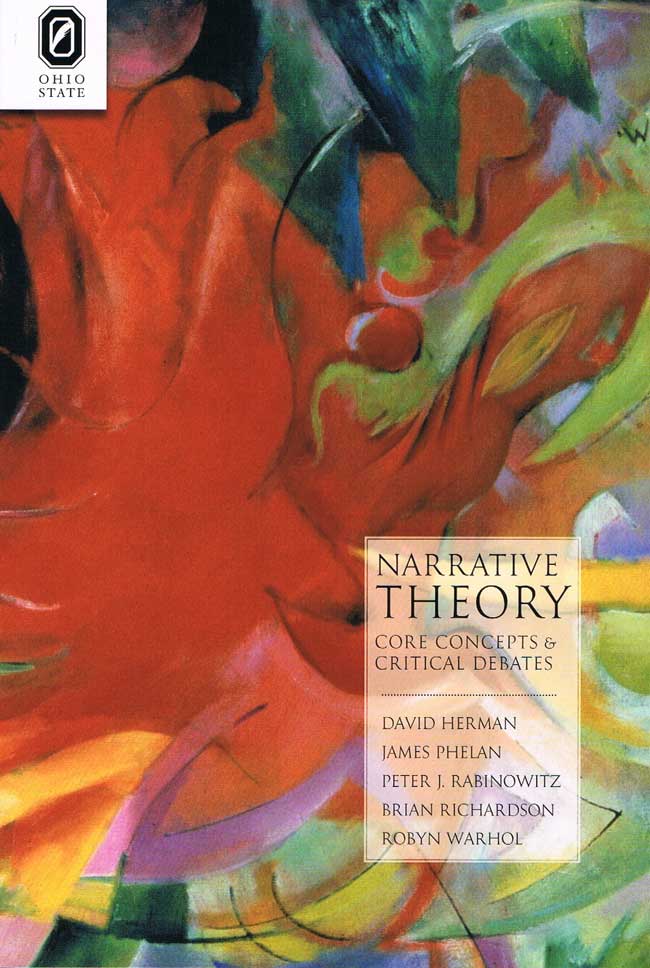 Narrative Theory:
Core Concepts and Critical Debates
Herman, Phelan, Rabinowitz, Richardson, and Warhol